Follow Us!Share this!
"No man can change his wyrd, but no one can take from him the strength to meet it." I read that a long time ago, attributed, I think, to Raud the Strong (who's story does support the idea, if not the 'quote'). It expresses much of the Northern attitude toward fate and luck.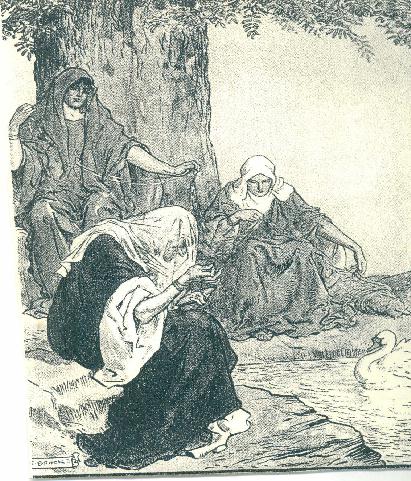 Wyrd is the Old English word we translate as fate, urðr in Old Norse. The three norns (who are thought of as the equivalent of the Greek fates or Moirai, although other versions of the norns are not limited to three), were called Urðr, Verðandi, and Skuld. Wikipedia tells us that Urðr means 'that which has come to pass', verðandi means "that which is in the process of happening", and skuld means 'debt' or 'guilt' (from a Germanic root *skul- 'to owe'). What your future will be is the result of what you have done and are doing. You and your ancestors, are the ones who create your fate.
The norns 'weave' your fate or ørlǫg, but to a certain degree, they are simply expressing what you have created. When Odin and his brothers created the first man and woman from driftwood, they were described as without ørlǫg; since they had done nothing yet, they had not built any up. On the other hand, as with debts in the living world, your ørlǫg can be passed along to your descendants. Wyrd can be both positive and negative.
The Haminja (closely related to the fylgja) was a personification of your luck, also seen as a guardian being that embodied the family luck, and passed along family lines. It was usually seen as a female or animal, and considered a sign of luck (or the form of one when they shape shift). Luck could even be loaned to a friend, outside the family line, showing how luck and fate were seen very personally, and as a resource.
In Ralph Blum's rune system, he added the 'blank rune' or Wyrd rune aka Odin's rune to his system. This wasn't part of the original futharc, but many rune users find it useful to include this concept in their readings. Wyrd indicates that your destiny or fate is at play in the reading, to which I must respond "when is it not?". Of course, sometimes the backlog of what you've done in the past, (or the actions and debts of those whose destiny is linked with yours) seems to be have a stronger impact at some times, whereas in others you seem to have more options, more freedom to choose.
Runes for luck include Fehu (for wealth), and Peorth (for luck in gambling, or finding lost objects). I also noticed when searching the internet a strange suggestion that many use the Ga bindrune, combining Gifu (gift) and Ansuz/Æsc (god). I can understand a novice runster thinking that this might mean gods giving you gifts, but that totally misses the point of Gifu/gybo, which in the heathen mindset meant balance: "a gift requires a gift" If you get something from the gods, that means you owe them, and as Ansuz is associated with Odin, as well as the Æsir as a group, this is like entering into a contract with Him, and as with any contract, make sure to read the fine print! You don't need an open ended obligation "You owe me!" from any being that has the ability to tweak reality.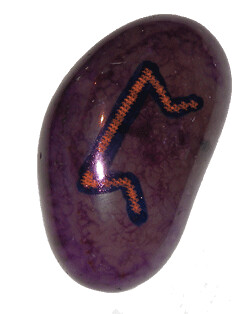 Likewise binding gifu and Wyn/wunjo is often declared to attract love, although gifu is often used for marriage, I think that refers to the way a good marriage is balanced, gybo always reminds us of the importance of balance; I think the combination of Balanced life and Joy is a great combination. (if you simply place one over the other it resembles the Christian Chi Rho symbol for Pax.) Ger/Jara is often seen as harvest, or getting your payoff for hard work. Another 'luck rune' is Perthro, for which interpretations are based on the Anglo-Saxon rune poem and the shape (of a dice cup, as one guess), is interpreted as fate, luck, chance, and sometimes finding lost objects. I would advise anyone starting to use runes to study the meanings deeply before trying starting to use them for magick. (and please, for your own sake, no tattoos based on internet searches!)
To conclude this look at how the Northern heathens looked at luck and fate, what the quote I remember imperfectly was saying is that we can't change the weight of the past and the constraints it places on us, but we can choose how to move forward, and that will form the fate that we pass on to those who come after (including our future selves, if we live that long).