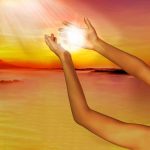 What is this conference about?
It's an interfaith Supernatural/ Paranormal/ Metaphysical conference. We explore alternative views of reality, healing, divination, energy work and spiritual practice.

Our goal is to provide hands-on, how-to workshops on all things "occult" (Supernatural/ Paranormal/ Metaphysical), and also to get past the "introductory level" to the most useful techniques and tools.
We include folklore and exploration of diverse spiritual paths as the spirit world is integrated and interactive with the physical world.

All paths are welcome and respected. Respect is fundamental as our other large goal is to bring those from different backgrounds together (for example those who study ESP, and those who study magick, those who pray and those who cast spells, those who study and those who do) together so that we can share our experiences and wisdom, and build on them together.
f you want a better idea of what it's about, keep coming back and checking out the guest blogs on the Good Stuff Here page. Sometimes our speakers will be doing guest blogs.
Our goals:
To teach effective, practical use of energy work and magick;
To encourage intermediate and advanced work, classes and presentations;
To better grasp the history of esoteric studies and spiritual practices;
To foster communication between the communities who study and practice these.
When is the conference?
November 7th through 13th 2022. Classes will run on Monday throgh Friday evenings, with full days on Saturday and Sunday.
Where is the conference?
The conference will be held entirely on-line, using the Zoom platform,
How much does the conference cost?
This year you have 2 ways to register for the conference.
1 Year Access ($85) lets you attend all the live sessions that take place during the conference itself (November 7 through 13, 2022). Shortly before the conference starts, you will receive a link to a private YouTube channel where we will be posting recordings of the classes and panels presented. This link will be valid for a full year after the end of the conference. This will give you plenty of time to enjoy and review our wonderful offerings.
1 Month Access ($45) is the same as above, but the YouTube link will be valid for just one month.
Where can I find the Schedule?
We are finalizing the 2022 schedule and we will post that as soon as it is available.
Please join us on our Facebook group with any suggestions or just to talk about this stuff between now and then. Let us know about your events
How can I become part of the conference?
Like our Facebook page. Join the Facebook group. Follow us on Instagram.
How can I help get the word out?
We'd love to have you put up a poster at your local bookstore, library, school, church or anywhere else you think others who come there would like to know about us. There are posters in black and white and color you can download and print. Contact us for a current copy.
Save