Speaker Spotlight: Taylor Elwood & Joanna Brook
Follow Us!Share this!
Joanna Brook is the priestess. She began professional Tarot consultations in 2007 and mediumship, to contact your beloved dead, in 2012. She is an ordained minister in the Seven Sisters Circle, where she studied eclectic modern paganism, ceremony, astrology, path working, divination, and spiritual counseling. Joanna has a gift of creating sacred space by connecting with the seven directions. She is available to officiate hand-fastings, funerals and customized ceremonies for you. She facilitates a New Moon ritual open to all at the Alluvium in Eugene, Oregon each month. Joanna teaches classes on magic and the pagan path, both solo and with Taylor. Joanna is also an accomplished poet.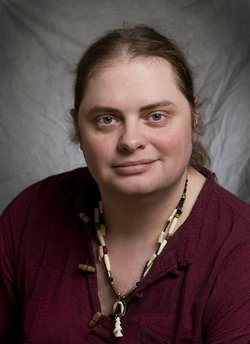 Taylor Ellwood is the magician. He's been practicing and experimenting with magic for over 30 years, designing innovative and original systems of magic that help people get results and transform their lives. Taylor has been reading Oracle and Tarot cards professionally since 2004. Taylor has been writing books on magic and teaching classes on a variety of spiritual topics including spirit communication, manifestation practices and inner alchemy since 2003. At Brightheart Alchemy Guides Taylor offers a variety of spiritual services designed to help you manifest results as well as provide answers around the issues you are dealing with. He also teaches classes both solo and with Joanna on spiritual topics. Taylor is also a sacred masculinity coach who helps men do shadow work and heal the inner wounds that's keeping them from the relationships they want to create.
To learn more about Joanna and Taylor, please visit http://www.brightheartalchemyguides.com. To learn more about Taylor's magical work please visit http://www.magicalexperiments.com
This year Taylor and Joanna will be presenting on our Virtual Track, and sharing the Alchemy of Wintering.
In the Inner Alchemy of Wintering they present spiritual practices of rest and rejuvenation to help you in the season of winter, whether the physical manifestation of the season or the metaphysical and emotional experience of burnout that all of us go through.
Wintering calls for us to step back and reflect, go silent and still to give ourselves space and discover what we truly need in order to replenish our energy and ready ourselves for the next Spring of our lives.
Taylor and Joanna will share their own stories of wintering and the techniques they have used to turn wintering into an inner alchemical process that unlocks the creativity within and readies it for the Spring.