Creating new holiday Traditions
Follow Us!Share this!
Please join CTCW's Otherworldly on Zoom this Wednesday, November 22nd, at 8 PM EST.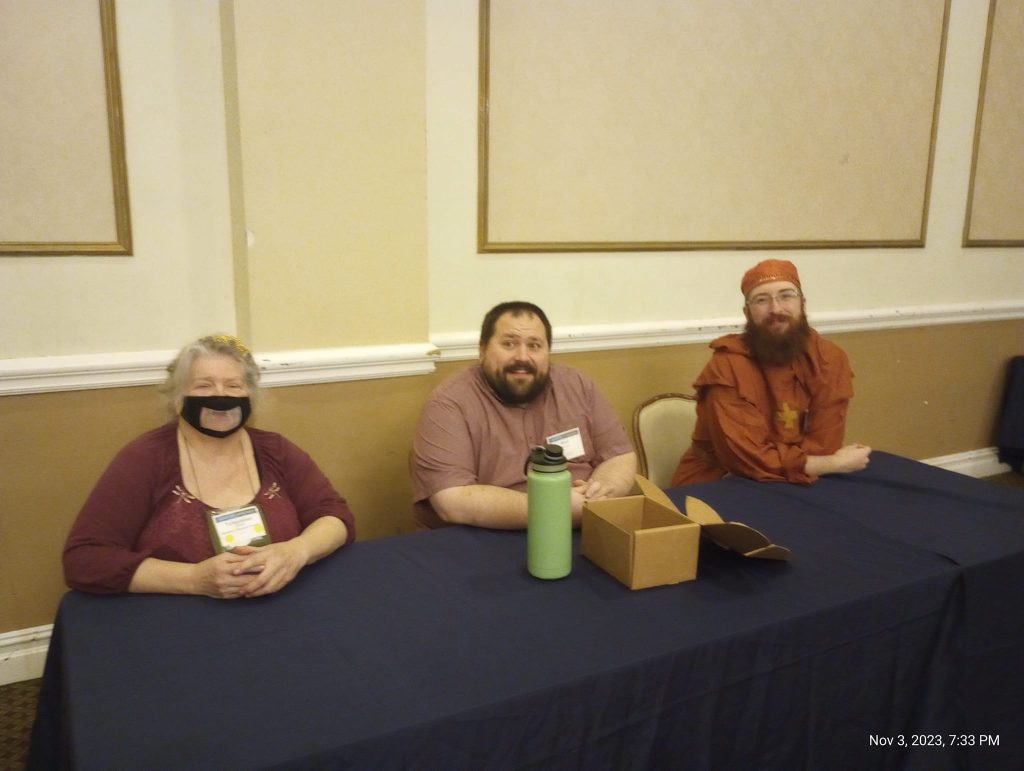 We had a great time with the panels at the con, and I'd like to spur some more discussions like those. Is anyone up for (has something to say about) magick, divination, energy healing, pagan practice, folklore? I'm certain there are a variety of different perspectives within the group, and sharing them isn't meant to come to a conclusion or even create consensus, but to help foster understanding within the community. If there's a topic for discussion in which you'd like to participate let me know. I'm not sure how many people are going to be available on Wednesday the 22nd, but I'm not going to skip that Otherworldly, since I'll be home.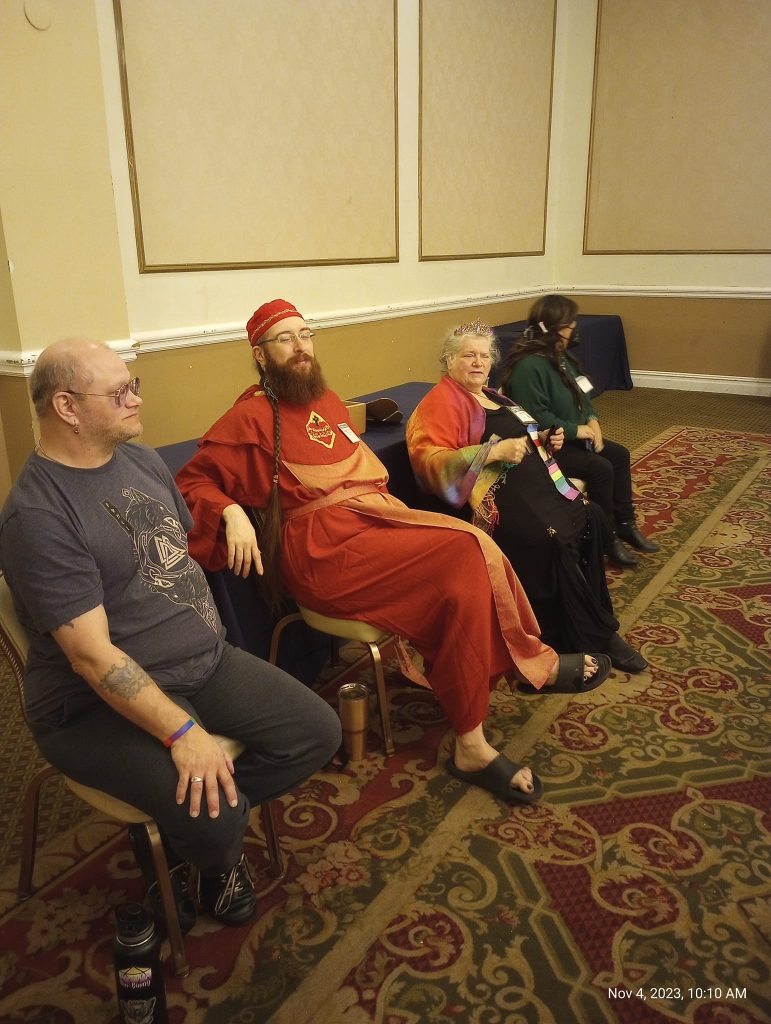 The night before Thanksgiving is also known as Tie One On Day, (referring to both relaxing with family and friends over a drink, or tying on an apron to prepare for the feast the next day. Feel free to grab a cup of tea or eggnog, if you're free between 8 and 9 on Wednesday night, and join me for a chat about what your personal or family traditions are, and how you have created a balance between traditional activities and your personal practices. I'd like a 'meta' discussion about how traditions are cobbled together by the many people who make up our magickal community. Whether you're pagan or not, we are all in the middle of an evolving culture (or set of interlocking cultures). What traditions do you and your family practice? Special foods? special activities? special prayers or offerings? Not just now but all year. And how do these traditions come about?

Join Zoom Meeting
https://us02web.zoom.us/j/81404863215?pwd=ZXpOQW5PVjVxRHNJT1hxSk9sdTl0dz09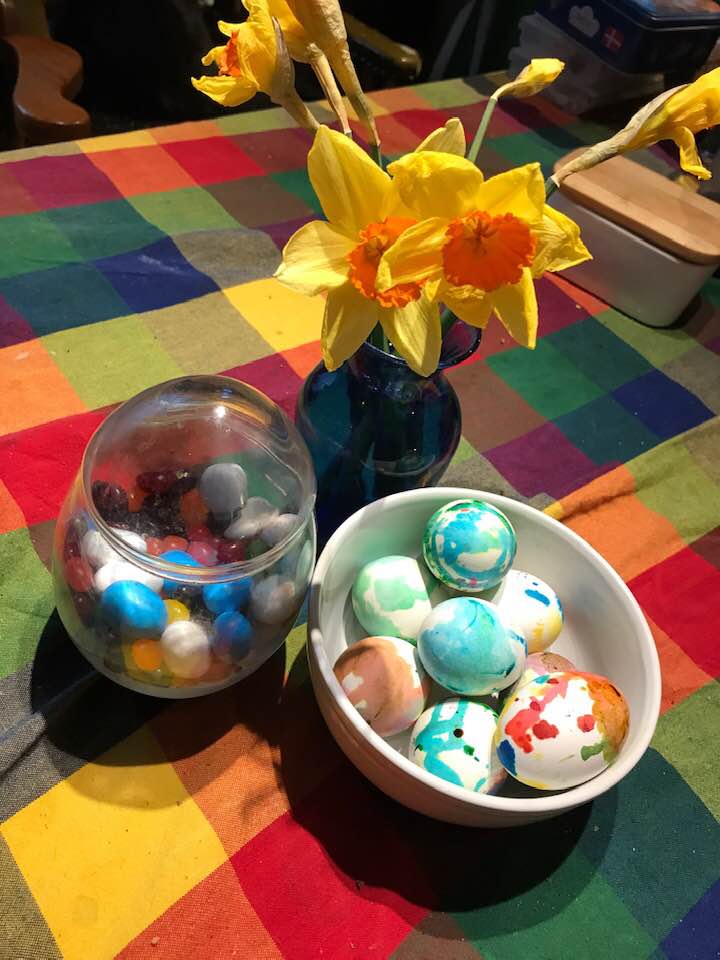 Meeting ID: 814 0486 3215
Passcode: 023443
We celebrate in our family, both variations on the year-wheel holidays, as well as some that are fairly personal to us. To use us as an example, running through the year, we have a family tradition of Broom Day, which is halfway between Imbolc and Ostara, and is the start of our spring cleaning season. We do dye eggs for Ostara, and enjoy Hot Cross buns, which pre-date Easter.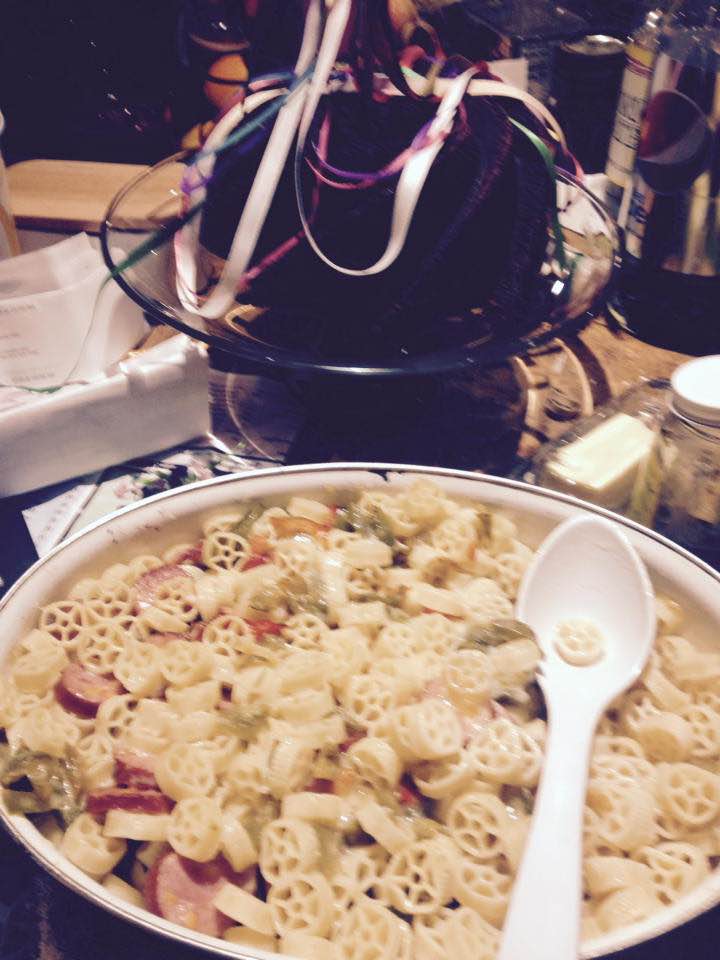 I generally have two cakes for Beltane (one's for Walpurgis night, one for May Day), they both have a ring of small dancers on top, (generally made of a chain of paperdolls-boys and girls). The night one has a fire (candle or sterno) in the hole of the bundt cake, and the Beltane one holds a may pole. I have to admit I've never gotten a good picture of the cake dancers around the fire. One of my daughters still goes out May morning to bathe her face in the dew. A traditional cake for Mayday is seed cake. I like to make one with 9 different seeds in it, and sometimes we'll mix a few of each of our garden seeds into the batter of a separate cake as an offering for the fertility of the garden.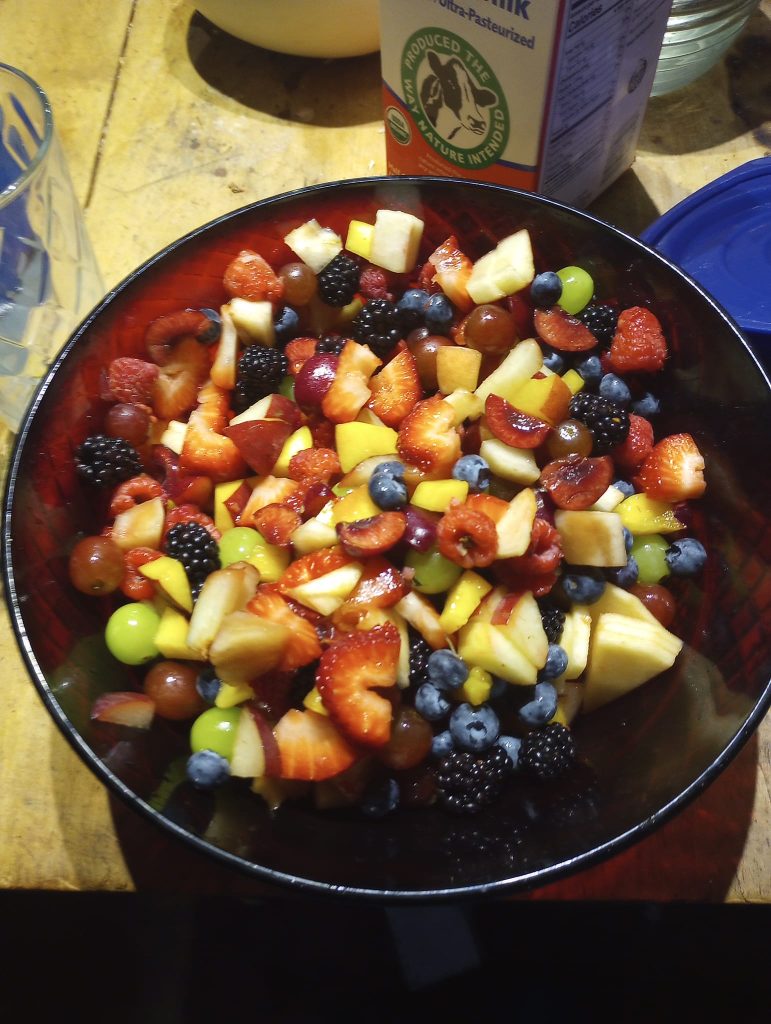 We celebrate the summer solstice with fresh strawberries, which come ripe at that time where we live, but before that, we celebrate Founder's Day from the Process, which I was in back in the 70's, and we still celebrate with the fruit salad with cream.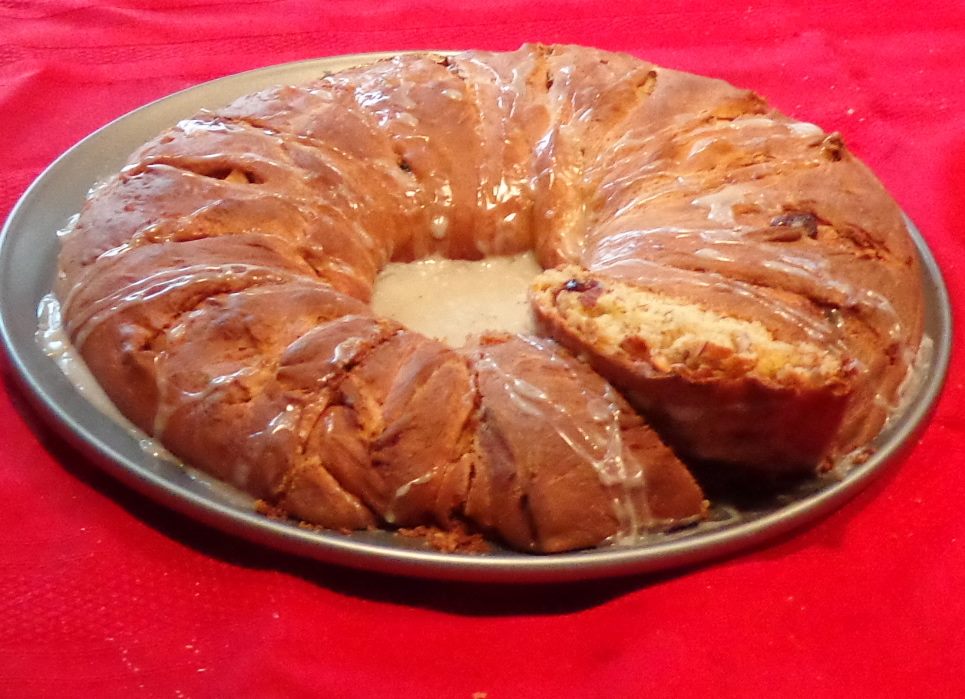 Lammas we usually celebrate with fresh produce rather than baked goods (it's too hot to bake), although sometimes I'll make an ornamental loaf. Come the fall equinox I always make Mabon Bread, a sweet bread with fruit and nuts in it.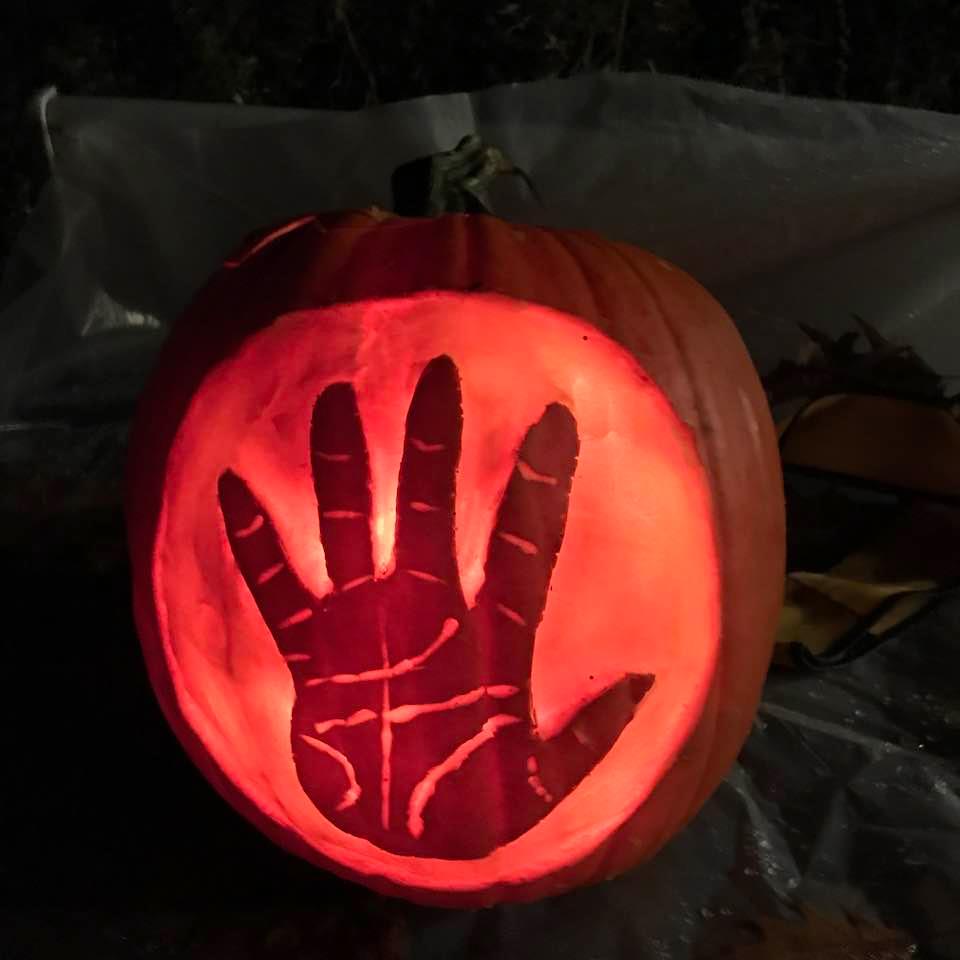 Come Samhain, we carve pumpkins, dress up, and hope to pass out candy. We also watch seasonal movies (all year long, from Groundhog's Day to Coco on the Day of the Dead). I like making Pan de Meurte, and Soul cakes.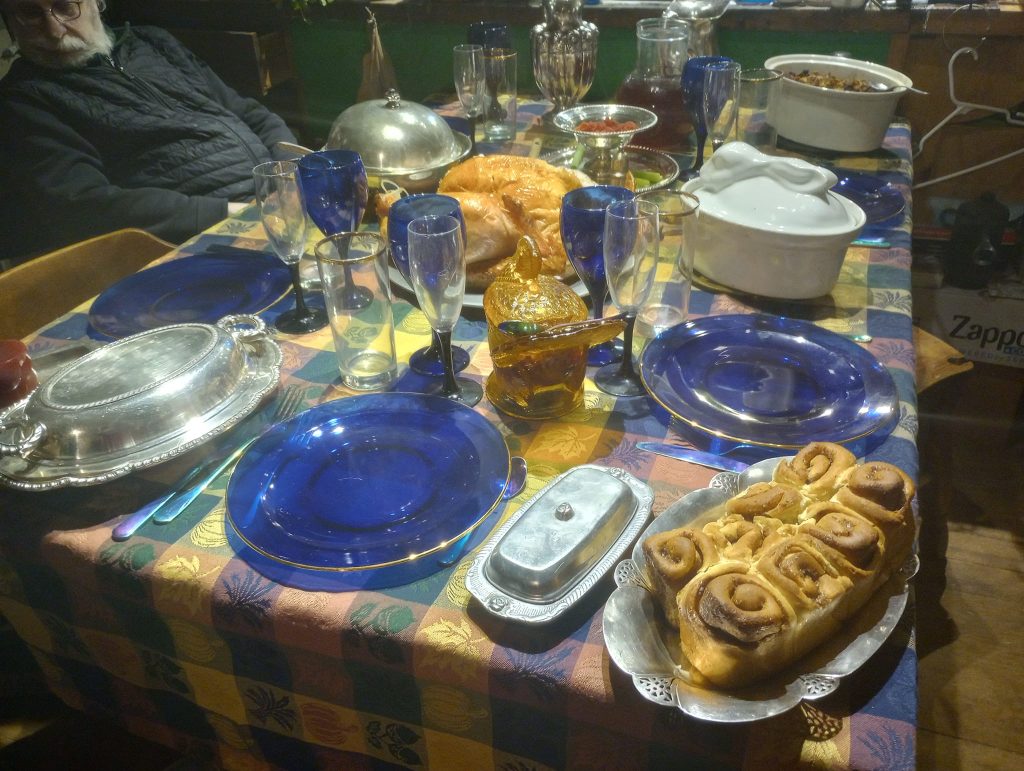 I like to make toffee for Guy Fawkes Day, and set off a roman candle or so, and we're gearing up for Thanksgiving (I will have probably made three pies before the show on Wednesday, and both cinnamon and plain rolls the next morning. It's a good day to try to heal ancestral trauma, and anything current, so you won't pass it down the line. I have been been blessed with a functional family, but we all have issues we need to address. I believe holidays reflect what was important to a culture at the time they were created. Once it got cold and the harvest was in, especially in the fall when the slaughtering was done and barns were full, people were more likely to celebrate with feasts, as Garfield told Odie in his Thanksgiving special: "Tomorrow is Thanksgiving.  That's the day people celebrate having food by eating as much of it as possible!  Yes, that's the day people try to eat every turkey, pumpkin and cranberry on the face of the earth.  It's a tradition.  And you know how I LOVE tradition!" We'll probably watch it again, and listen to Arlo Guthrie's Alice's Restaurant Massacree as I mash potatoes and baste the turkey.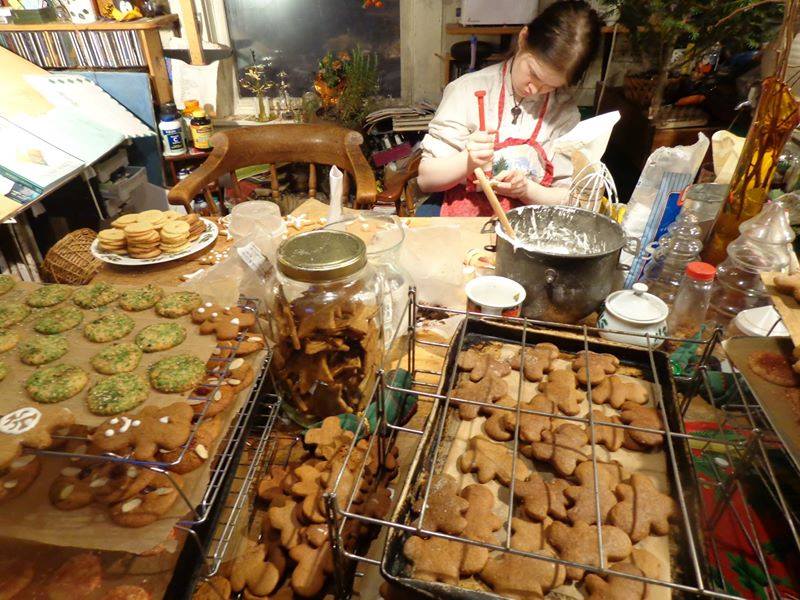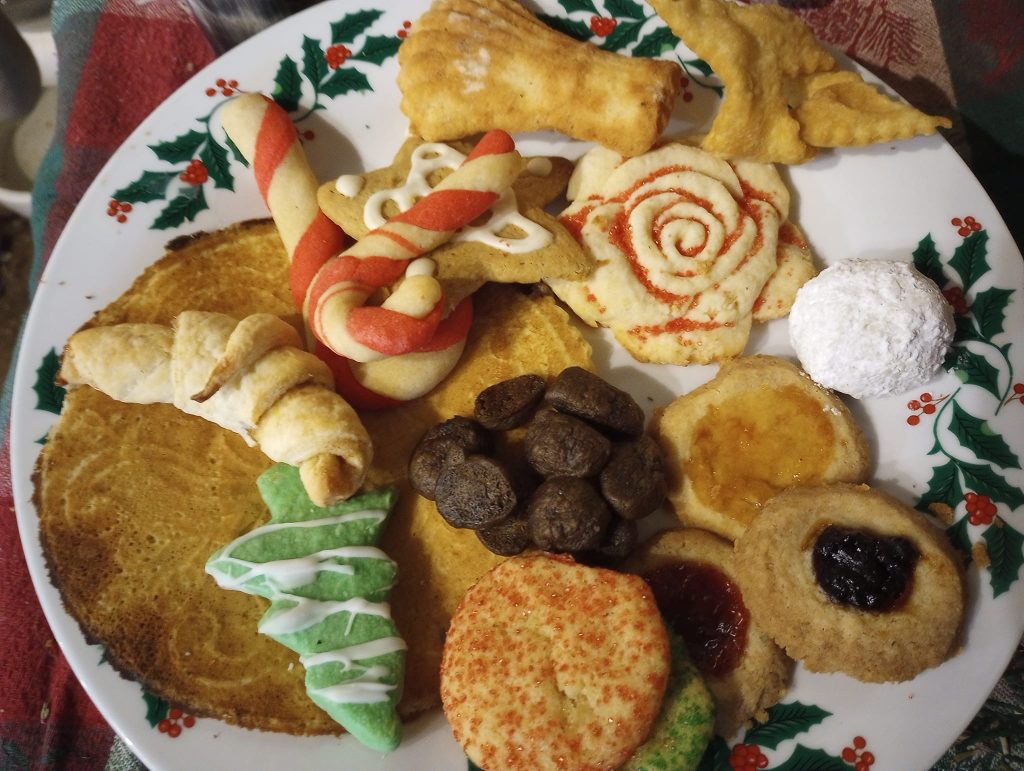 December has a huge raft of holidays. I enjoy the superstition that snow in November comes from people putting up their Christmas decorations too early, but come December, along with Jack Skellington, I start "making Christmas", or at least cookies. At least 12 varieties, sometimes more.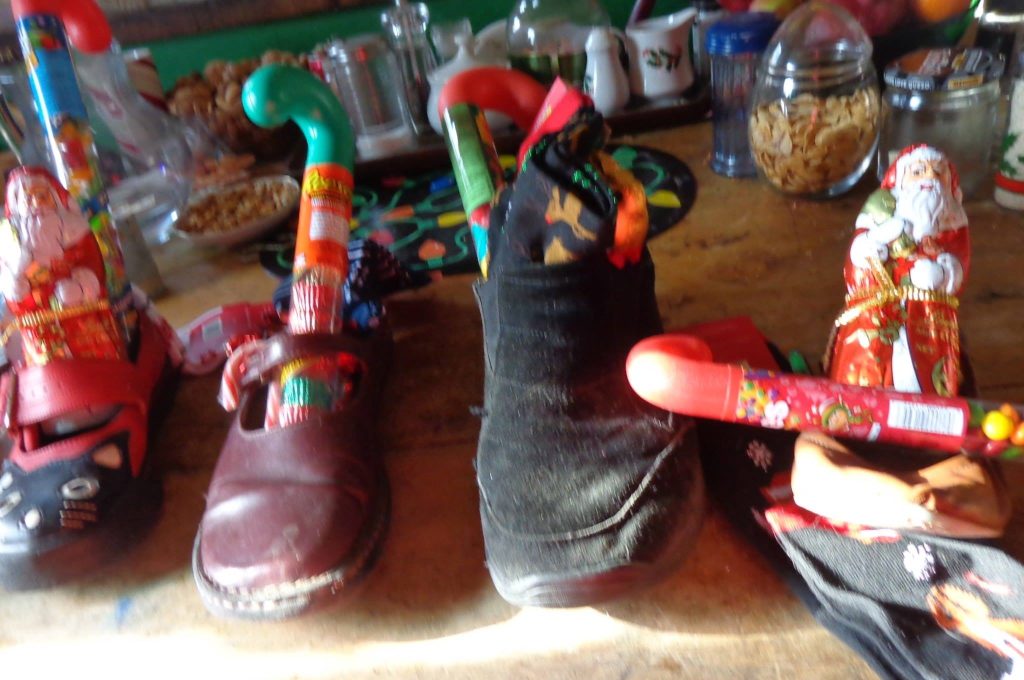 The 5th is St. Nicholas Eve, and while we used to have the kids put out their shoes with carrots for his horse (a good time for seasonal music or accessories), these days we tend to think more of it as Krampus Night because the US has discovered the yule 'monsters' of Eastern Europe. There's something appealing about a St. Nicholas who comes along and stuffs the naughty kids in a sack. Less creepy in my mind than Elf on a Shelf. Actually the 6th of December is the earliest sunset, and the sixth of January is the latest sunrise. The month between those days defines the dark season in my mind. These days we call it the Feast of Brothers and Sisters.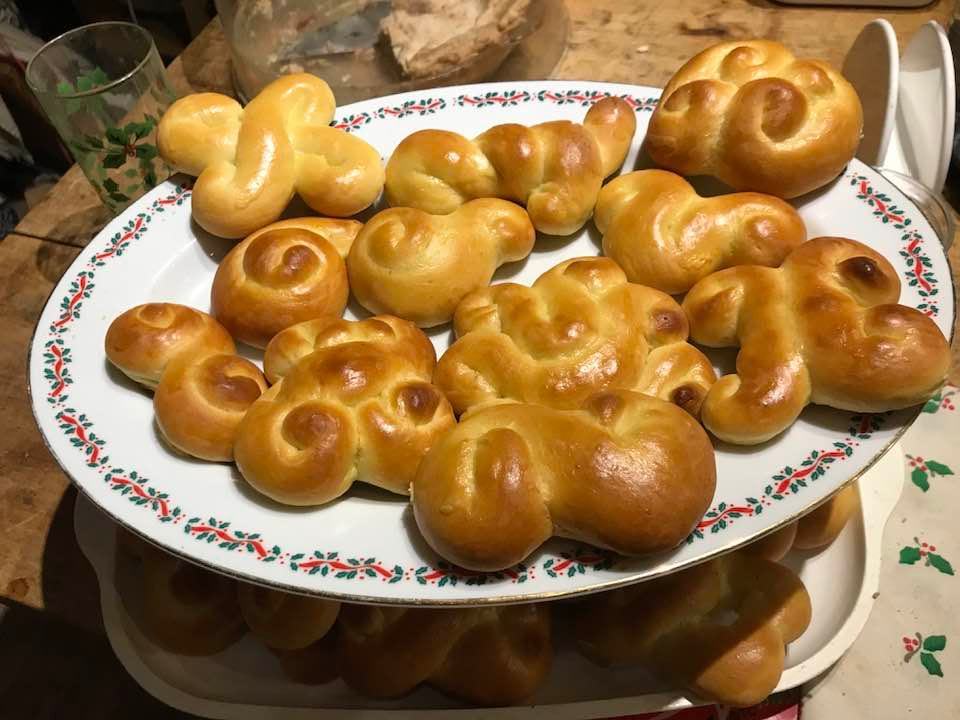 The week after that is St. Lucia's Day, traditionally celebrated by the daughter of the family bringing coffee and saffron buns to the parents in bed, with a wreath of flaming candles on her head. We actually made a wreath with electric candles for our daughters. At this point we simply make the Lucia buns on the 12th so we can eat them on the 13th. We try to get the house decorated with tree and whatever between Krampus and Lucia's. On the 12th the Icelandic Yule lads start arriving which we enjoy.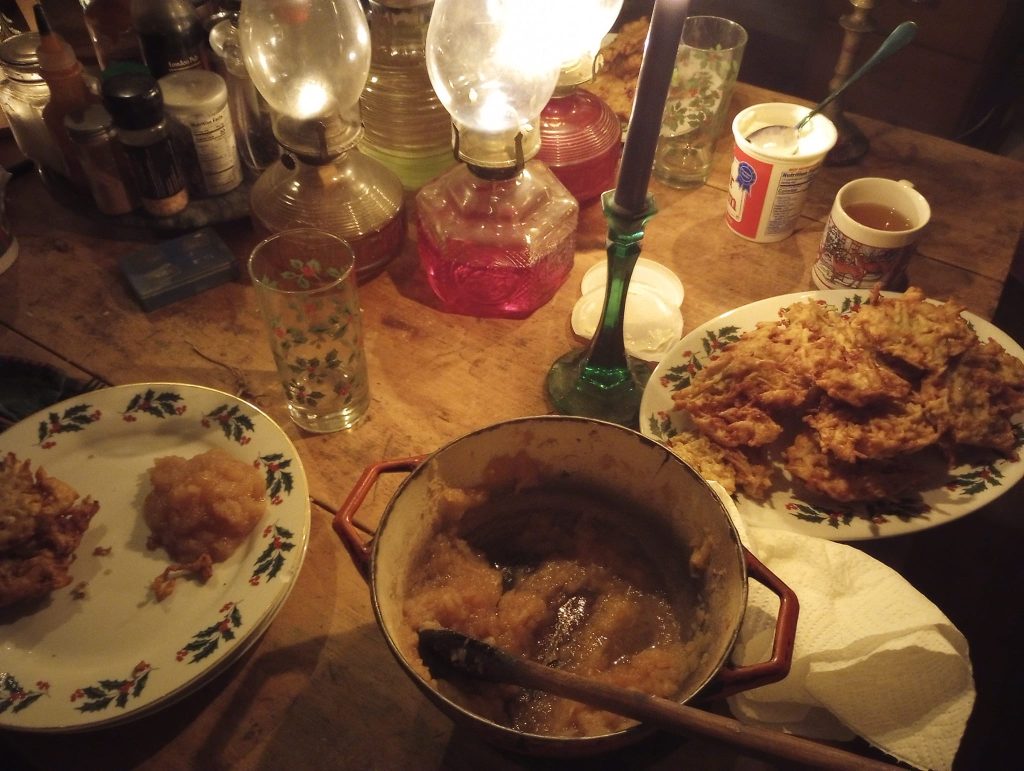 Somewhere in early December the Jewish holiday of Hannuka happens (their calendar is Lunar, so it varies), but I invite my friends in for latkes, and home made applesauce. It lasts 8 days, at the waning of the moon. Mostly I want to make sure they get to have their traditional meal. The Roman festival of Saturnalia ran from the 17th to the 23rd, where we get a lot of our customs of gift giving, candles, and role inversions came, and which came forward to many of our celebrations.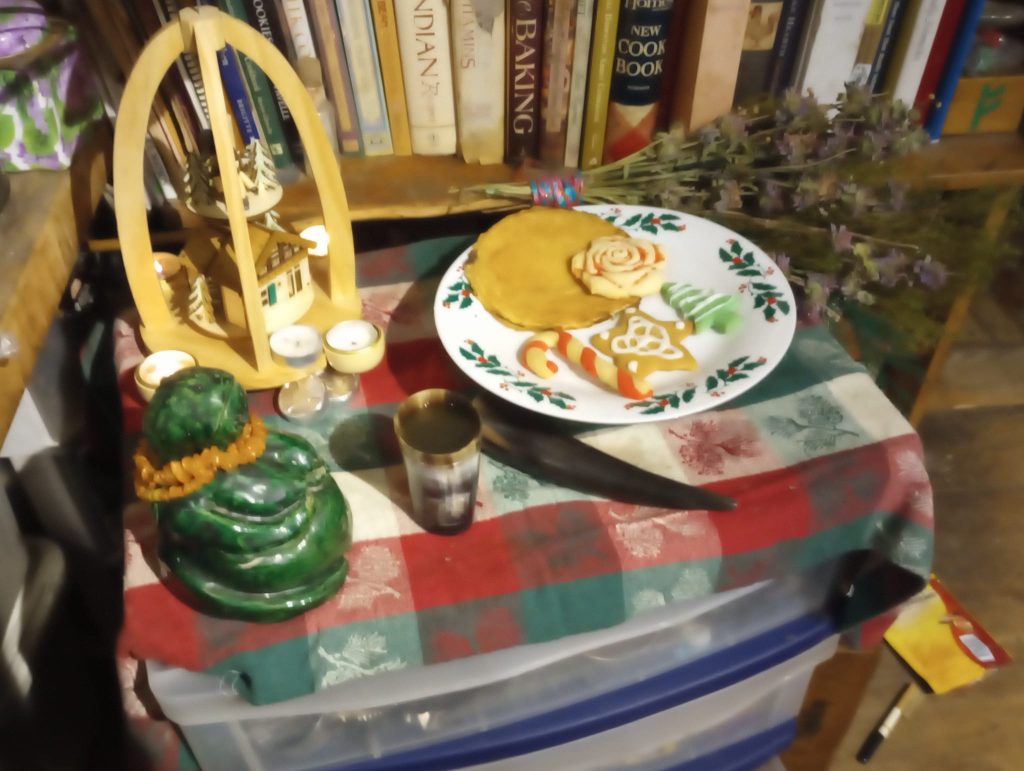 The next holiday is one I generally celebrate on my own: Mother night is the night before the Solstice and was dedicated to the Mothers, or the Idisi, as the Anglo-Saxons knew them. I make wafer cookies dedicated to them, mead if I've made it, and listen to music that reminds me of the ladies. This is my mother altar. I invite anyone who wants to join me, but told the kids that they should only work with the gods they want to. Not all holy days are for everyone.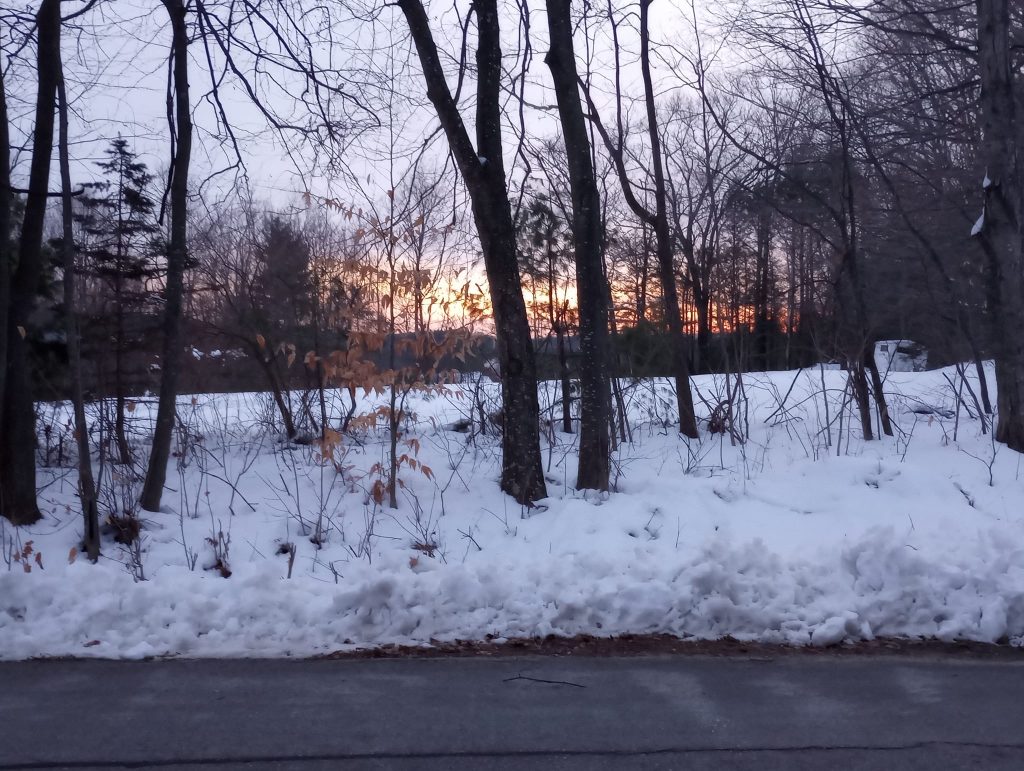 The next night, a week after Lucia's takes us to the Winter Solstice, the shortest day of the year. I've been having a feast on a weekend day as close to it as I can get to that night. When we were younger we'd stay up all night playing games, with the feast at midnight, and have dancing in the hour before the sun came up. Celebrating Solstice as a pagan family left the Christian holiday available to share with our families. When we had kids we gathered at the grandparents.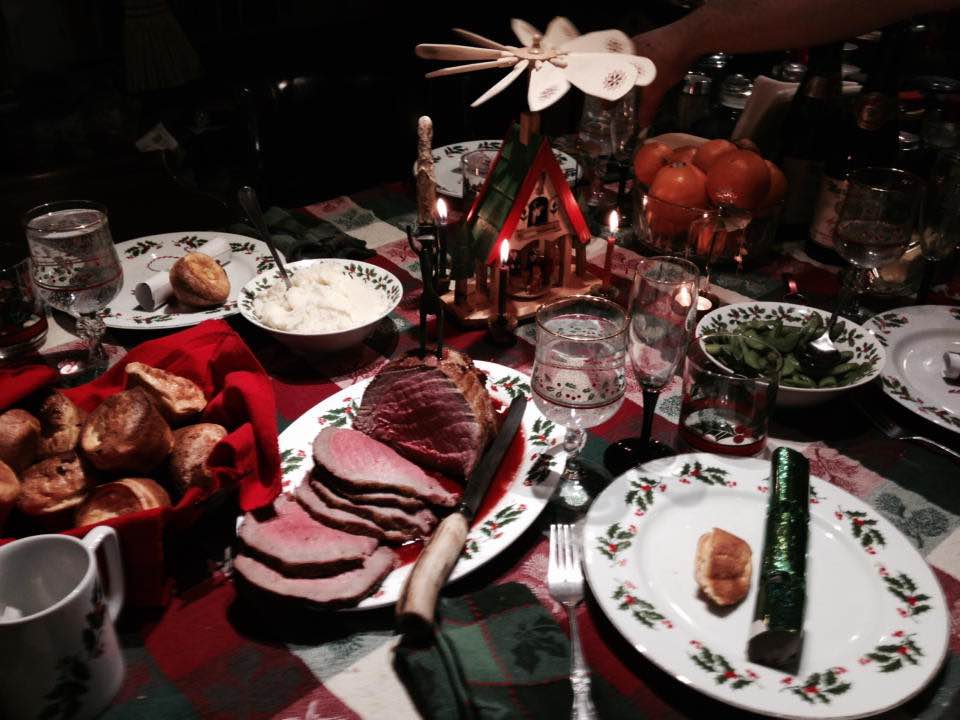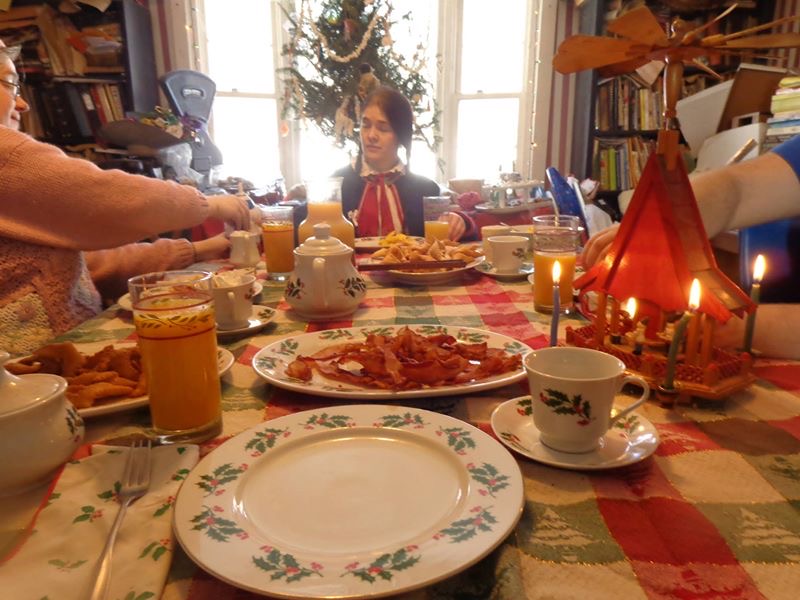 Now that our parents are gone we have Christmas Eve and Day at home. We start with a special breakfast with excessive amounts of bacon, and Fattigman Bakkels, a fried pastry. We've tried turkey and goose, but mostly have roast beef and yorkshire pudding for dinner. It's much quieter now that we're older. We also have sausages and pork pies, which I admit I got from watching the Hogfather. We like to explore as many seasonal traditions as we can find.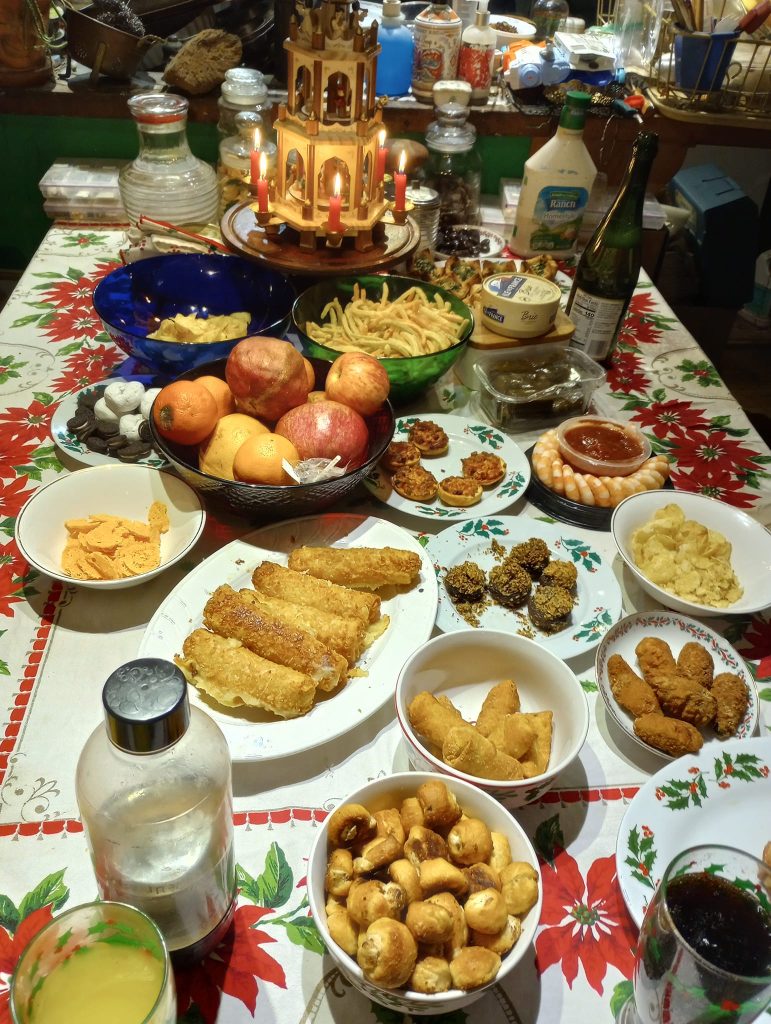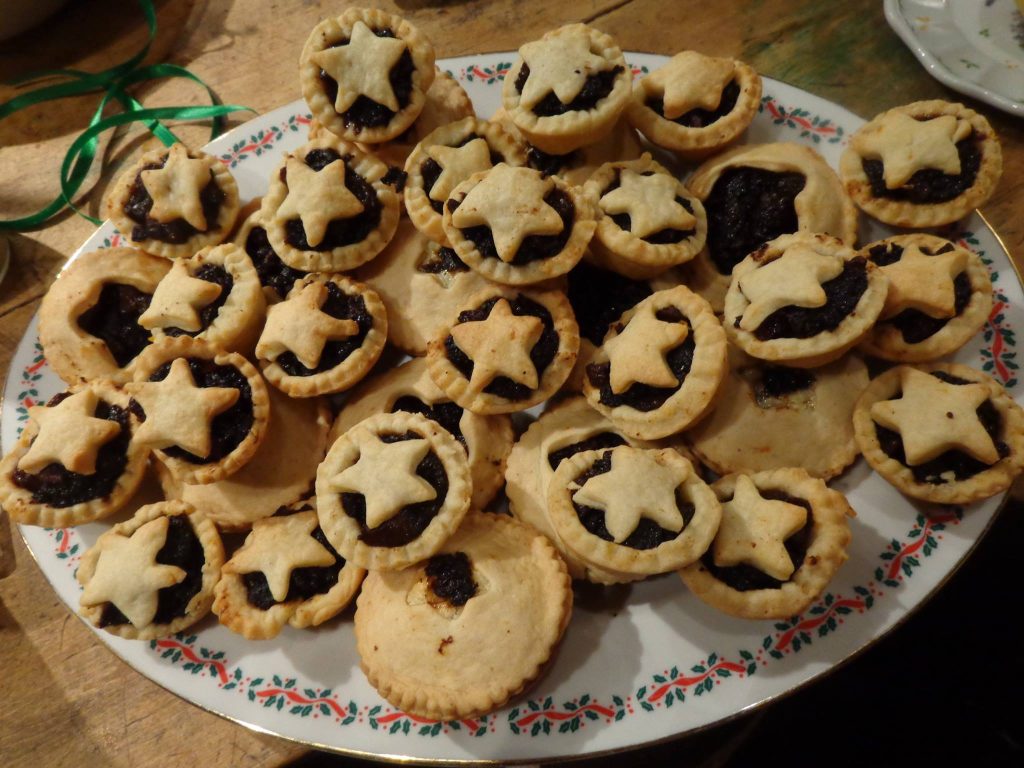 Due to our families hobby of recreating history, we tend to focus on the 12 days Christmas to Epiphany, which has gone the way of Advent for most. We celebrate New Year's Day with the traditional good-luck foods, and the Eve with the 'feast of small foods'- a spread of hot and cold hors d'oeuvres. I sometimes make a king cake for Epiphany, but mostly we try to follow the traditions of no spinning during the 12 days, and get every leaf, berry and needle cleaned up by the 7th. One of the yule traditions I really like is that of mince pies. You were supposed to get a month of luck for each pie you ate during the days of Christmas. The trick was that to get the luck, each had to be made by a different cook. What a wonderful way to build community, by insuring that folks would visit their neighbors.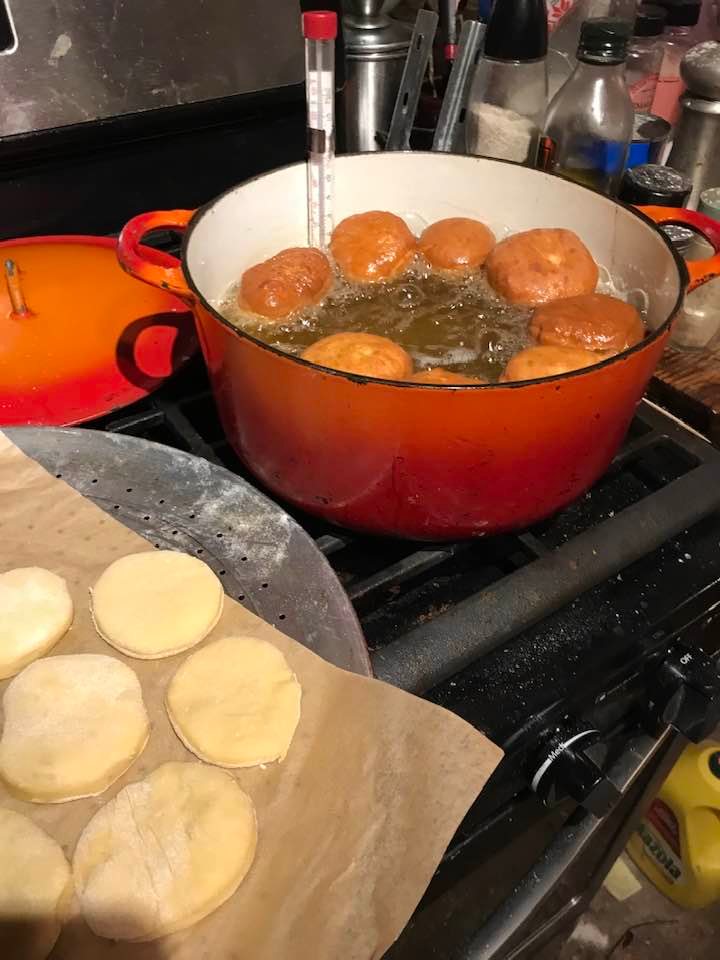 After the holidays, we try to go to "fasting mode" of eating simpler foods. Feast and Fast must be balanced; you mustn't have one without the other. Not just before and after Yule, but between all the holidays. There aren't traditional foods for Imbolc/ Candlemas/ Groundhog's Day, but it is followed fairly closely by Carnival, for which I make "fashing cakes", yeast donuts. Donuts are not common in our house, but we pig out on them on Fashing. Advent and Yule are customs that make sense to me, as are customs that help tie families and neighbors together.
We also tend to focus on local harvests over which we have little control, but must recognize: the maple syrup harvest in the spring, the strawberries in June, apples in the fall, as well as first and last frost, and when each herb we harvest or food crops, when we have a garden. The first real snow (which needs to be shoveled, and can't be left to melt on its own) is a holiday in our family.
I tend to think that most people find their pagan practice grows out of their personal lives, and so will vary from person to person, family to family, and community to community. We are more likely to have the 'traditional' celebrations when we are meeting others to do it. We have more freedom on personal devotions. So having shared our celebrations with you, allow me to be curious about how you have developed your holidays. Probably few will be as 'food oriented' as mine, because I like cooking. You may be more likely to follow your garden, or mark when you change whether your summer or winter clothing is in storage, or in the closet. Many may be more lunar oriented. I hope someone will join the live discussion on Otherworldly, but if not, I can talk about holidays at great length.
Find us on Facebook: the CTCW Group and page: https://www.facebook.com/groups/388982351233282/
https://www.facebook.com/changingtimeschangingworlds/
People are psychic, magick is real, ghosts and other spirits exist, and people can heal with energy. Each culture around the world had come up with ways to explore these realities, and that's great, we can learn from each other, that's how we change the world. CTCW is dedicated to fostering communication between all who are aware of the greater reality. In November we have the conference, and we are considering adding other events and activities. Every Wednesday, join us on Otherworldly, featuring many of our speakers, and topics.
We hope you can join us Wednesday at 8. If you miss this show, the recordings are posted on Youtube Thursday or Friday.
https://www.youtube.com/channel/UC1xTRrcFwUjmQgWb_BDvpiA