We need different lessons at different times
Follow Us!Share this!
I have to admit that I'm old. Not as old as I expect to get, but once you pass seventy, no amount of denial or reworking your expectations can get around that. Globally, only 10% of the population is over 65, (while a quarter of the population is under 15). I still remember being a kid, and a teen, that long summer of being a wife and mother, and in the last couple decades, learning how to be a widow and crone. Some parts of my life are gone, never to be recovered; some continue without losing their luster. I'm still an historian, an artist, a soothsayer, a healer. Perhaps as I've never tied those aspects of my life to income, it's easier for me to simply do them less energetically than it would if I had.
But the reality of aging is teaching me new lessons. As a soothsayer, I see my job as empowering people with the the challenges they are facing, and those challenges are different at different stages of your life. The challenge of youth is often that illustrated so well in the 7 of cups: many choices, each of which has its appeal, rewards and costs. In midlife you may need to deal with the Tower, as everything you've built comes tumbling down around you, leaving you to try to figure out how to start over again.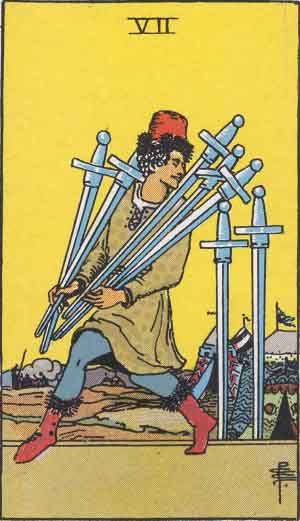 As I age, I'd love to see myself as the Hermit, lighting the way for those who may be seeking what I've found, but somehow I feel more like the fellow in the 7 of swords: I've got all I can manage to carry, although I can see that there's still more I think I ought to be able to manage, but I'm already risking hurting myself with what I have now. (not a traditional meaning, but a perfectly acceptable one under the circumstances.) Maybe I could relate more to the fellow in the 7 of staffs, who's got the high ground, but how long can he hold it when he's so out numbered? Yes, when you get older, you get slower and can't handle what you expect you should be able to.
Perhaps I should embrace the image on the seven of coins. Perhaps the 70s (for me, anyway) are the time of harvest, of reaping what I've sown, a time of contemplation. I've always read it as a card advising patience, when you've put in your work, you simply have to wait for whatever is going to happen, it's now out of your hands. I think when we're younger we think of the end of the road more like the seventh Trump card: the Chariot, riding in triumph after conquering, (rather than, as with the wands, where you discover that having won many battles, the war keeps going on, and there's always another to fight). At some point, we have to surrender to the awareness that we don't have as much control as we'd like, and we have to accept what comes up.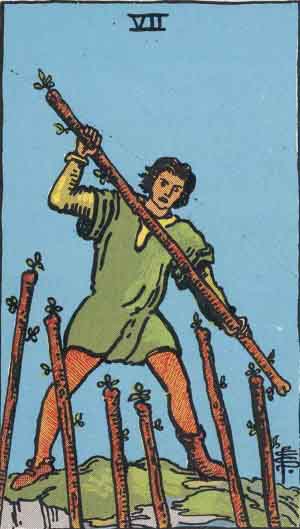 As an artist I'm aware of my dimming vision, and the occasional tremor in my hands, but still feel I can show people their own inner beauty, while mine is in the past. As a healer, I continue to gain knowledge and insight, often by having experienced more of the ailments and injuries the human body is prone to. Sometimes we feel that our spiritual path should be able to make it easier for us to deal with the problems of life, but I haven't noticed that we have any less than anyone else. We can hope to learn more. But one thing I am sure of. I have more lessons to learn, and the ones I learned when I was younger are NOT what I need now. This is what age is like for me, yours will be different. The lessons I had to learn when I was younger are different than what I'm learning now. I have to accept that I may have gotten the perfect answer to my questions earlier in life, but now I have a different challenge- a different battle, a different set of strengths and weaknesses. I can't do what I used to do. My goals are different, and they should be. How marvelous that in one lifetime we can cycle through so many experiences, and so many lessons! Whether you are dealing with the fears and joys of youth or age, embrace them as your own, and don't waste energy on trying to guess what you'll have to deal with later, or how you could have done better before (if you'd known then, what you know now).