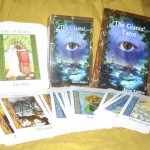 Follow Us!Share this!
Vendors
Our vendors room is small this year, but we think full of wonderful stuff.
As you get ready for CTCW please remember your upcoming holiday shopping! Buying from local craftsmen is a wonderful thing! And remember beside your friends the upcoming festivities or circles, or grab bags, and gift for exchanges. Our author's books and craftsmen's wonderful wares are perfect for these occasions!
Our Vendors /Dealers
Akasha's Journey

Akasha's Journey offers a variety of hand crafted and magickally charged products including Reiki tools, crystal sets, black scrying mirrors, mojo bags, candles, and custom altar cloths.  I have a line of "Portable Pagan" items that include mini altars and mini altar tool sets.  I also have a line of "Pagan Pet" items that include pet healing mojo bags and magickally charged pet bandanas.  I offer Esoteric Consultations including Natal Chart casting & interpretation, chakra crystal energy therapy, power animal retrieval, Medicine Card, & Tarot readings.  I am also overjoyed to over a variety of healing modalities including Reiki, IET, and Run Valdr.  All healings are offered for both humans and their pets or familiars.
http://www.AkashasJourney.com/
Auntie Arwen's Spice Blends
Auntie Arwen's Spices offers a huge selection of seasoning blends, from the flat calm to melt-your-fillings hot. We also have fudge, teas and coffees, and some interesting miscellanea and closeouts.
http://www.auntiearwenspices.com/
Cabochons 
Cabochons- silver jewelry, long stripey stockings, hand painted silks, unique jewelry with semi-precious jewelry, ceramic figurines, votifs and cookie stamps, Tchipakkan's cookbooks, wood burned and painted boxes, and more… www.Tchipakkan.com
Crystal Connection
The Crystal Connection: tumble stones, pendula, massage stones, chip necklaces, and miscellaneous specimens to delight the senses. Inexpensive items for "show and tell" at elementary school, too.
Divine Creative Inspirations
Handcrafted items, Divinely inspired. Many of our items represent Native American Spirituality. We create Hand Drums, Native American style Flutes, rattles, wood carvings, Medicine bags, featherwork, jewelry, and more. We enjoy creating what is inspired, and love to be inspired by your special requests. All of our handcrafted items are one of a kind, and any can be made to your specification. Artists include Lester Greenwood, Andrea Brenton, Michael Longrider, Jacki Joy.
http://divinecreativeinspirations.com/
dōTERRA  Essential Oils
Certified Pure Therapeutic Grade Essential Oils: Naturally Safe, purely effective; Guaranteed!
Discover how to protect your family's health with nature's most powerful medicine, essential oils.  Learn how to replace harmful synthetic pharmaceuticals with the only oils pure enough for internal use.   They have calming, anti-bacterial, anti-viral, and anti-inflammatory characteristics.  Check out www.godoterra.com for more information or attend one of our workshops to learn more!
www.godoterra.com
Hutnick's Used Books
Used books, mostly science fiction and fantasy getting the books you can't find elsewhere into your hands for affordable prices.
Mengloth's Market