Wenesday Announcement
This is a high-energy circle in the Norse tradition, in which we may do healing, fertility magic, charging of major tools, experimental magic, distance work, and whatever else needs doing. Once the ritual begins, the room will be sealed, so please come on time,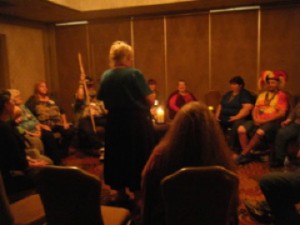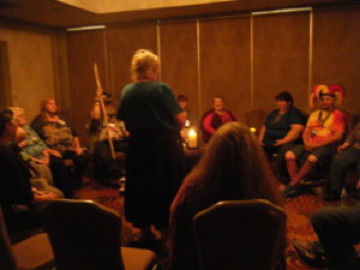 fed and rested, and pottied. Due to the high energies we will be working with, we will have grounding and tuneup for anyone (no matter their expertise) who has never been to a Norseworking before.
You MUST be able to ground and center to participate. There will be instruction on this available during the day Friday, but be advised, unless you've been to one, you may never have experienced this much energy flow before.
Which is all to the good, because Norseworkings are credited with some amazing healings and a few "impossible" babies!
If you have a loved one who you'd like us to work on during the Norseworking, please contact them before we start in order to get permission for us to heal them.
Share this!
One of CTCW's favorite events, this space is held with a variety of intentions and benefits the practitioners and recipients alike. We open this space for practitioners who would like more experience with a new-to-them modality or with a modality or technique they may not have used in a while as well as those who would like to join us to give and receive a session. We also welcome people who are in need of a healing boost to come and experience a modality they may not have experienced before. During this time, sessions will be shorter (although not necessarily less effective) and this is also a time when we learn from each other and depart feeling relaxed, empowered, grateful, and all good things. Healing practitioners who volunteer their time for this often learn tips and new techniques to add to their healing toolbox. Note: Open Healing sessions are not meant to replace full sessions given by our amazing practitioners who are available throughout the conference. Practitioners who wish to participate should email Maryalyce at CTCWplanning@gmail.com with a short bio & healing modalities being offered. Recipients who would like to be worked on should use the sign-up sheets posted on the door of the Healing Room.
UPDATE:
We have decided to dedicate the Quiet Room to personal access so people can use the space to ground, for the labyrinth, and possibly a few healing classes. The Open Healing Session was not well attended last year, so we are putting it on hiatus. Please, if you liked this event, let us know so that we can incorporate it into the schedule in the future.
Share this!