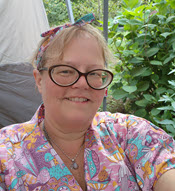 Internationally recognized Psychic, Holistic Healer, and Teacher Sha Blackburn, known as The LoonWitch, has been empowering individuals to transform their lives using magickal principles and her intuitive gifts since 1997. Since childhood Sha has been drawn to the mystery schools and walks that path today. She is a High Priestess (Order of Blended Wisdom Coven), Ordained Minister, Reiki Master Teacher, Certified Neuro-Linguistic Practitioner, QHHT Practitioner and certified in Acupressure, Reflexology and Chinese Herbology and is certified in Shamanic Healing from the Foundation of Shamanic Studies.
She offers a variety of in person and virtual workshops on the topics of divination, healing, and metaphysics and offers Tarot readings, Rune readings and Aura photography. She has been a popular radio and media guest for over 20 years and is invited to return again and again.
She was named Woman of the Year by The National Association of Professional Women (2012), and Inspirational Woman of the Year by The Women's Radio Network.
Learn more about Sha's offerings and events at www.LoonWitch.com.
YouTube:
https://www.youtube.com/@LoonWitch
Website:
Social Media:
https://www.facebook.com/theloonwitch
https://www.instagram.com/loonwitch