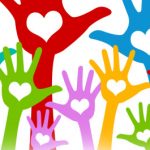 Follow Us!Share this!
Work Exchange is a wonderful way to open your heart & spirit to new experiences!
You lend your expertise to manifest the energy, build the community, and shape the type of conference that we will all share for three days as we create this space together.
In return, you get to attend a full three days of amazing classes, workshops, panels, and performances on us.
Reasons to Apply for Work-Exchange
You have access to 4 tracks of classes plus all of our workshops, panels, and evening activities for a small exchange of your time and energy!       WOW!
This is a fantastic way to express yourself, to meet new friends, network, and to build new skill-sets. Experience first hand what it takes to make an event run successfully by offering your time and skills.
In exchange for your time and skills, you will receive a percentage off registration.
You earn admission to the conference and we receive much appreciated assistance.
The CTCW staff (all volunteers I might add) and speakers will fall all over you with gratitude!
Who is Eligible?
Anyone who will be 18 years or older on or before August 8, 2018 is eligible for our work exchange program.
Almost every aspect of Changing Times Changing Worlds is currently driven by our incredible volunteer staff; it is a labor of love.
Opportunities for Work Exchange
Pre-event Opportunities
We are in need of reliable and knowledgeable people who can help us get the word out about the Vision of Changing Times Changing Worlds and who can follow through on the tasks they are assigned. Many of these tasks can be done on the computer or over the phone while maintaining clear communication with our Conference Chairperson. Most of these opportunities fall under the category of Marketing.
These very valuable people are asked to contribute ten (10) pre-event service hours.
Please highlight any special skills that you have when you fill out the application form.
See below for more information and for job descriptions.
On-site Positions
We are in need of dependable people who can assist us on site during the Conference. This year CTCW takes place at Honor's Haven Resort & Spa in Ellenville, NY.
On-site volunteers will work a minimum of eight (8) total hours divided into 2 hour shifts. When you're not working, you are a conference participant and encouraged to participate in all of the classes, panels, and wide array of offerings.
Position assignments are made based on your application and the requirements of Changing Times Changing Worlds. You must be willing to do any task assigned to you. Please highlight any special skills that you have on the application form.
If you are applying with a friend and would like to be scheduled for the same shifts, please notify us on the application. Every effort will be made to accommodate your request; however, we cannot guarantee we will be able to do so.
Changing Times Changing Worlds does not pay for or reimburse travel-related expenses, meals, or accommodations. You are required to pay these yourself.  Work exchange is applied toward Conference admission only.
For more information regarding volunteering onsite, please review the Work Exchange Contract and Assignment.
How to Apply to our Work Exchange Program
Fill out the below application form and submit for approval. Submittal of an application does not guarantee acceptance.
Refundable Admission Deposit
A refundable conference registration deposit of $33 must accompany applications for on-site work exchange positions. Payment is made via Paypal when the application is submitted. We are not able to consider registrations without full payments.
Should you complete your work assignments and adhere to all of the conference and work study rules, the card you use will be refunded the deposit within 5 days of the end of the conference.
In the event you do not complete your assignment or you are found to be in violation of Conference or work exchange rules, your payment will not be refunded and you will pay for your full conference registration.
Should your conduct result in your removal from the conference, you will forfeit your deposit.
Notification of Acceptance
After we receive your deposit, you will be considered for a position. Should you be accepted, you will be notified via email of your assignment and schedule. Should you not be accepted, you will have a choice whether to attend the conference as an attendee or request a refund. Your refund will be sent within 5 days of notification of your status, but we do hope that you choose to attend the event and partake in all we have to offer.
Sign Up and Join the Fun!
There are different types of work-exchange opportunities. Here are general descriptions.
Pre-Event Positions:
Marketing
Our Marketing Manager is looking for friendly, respectful, positive, reliable, diligent, and in some cases outgoing individuals to act on behalf of Changing Times Changing Worlds to expand our reach within our target market.  Some responsibilities include but are not limited to:  contacting local shops & place marketing materials in person or requesting that CTCW mails our press kit; contacting religious congregations for the same; contacting Complementary Health care practitioners in NY & 100 mile radius to solicit vending opportunities and to send promotional material; contacting colleges & universities (beginning in September); contacting Unitarian Churches; post to newspapers & magazines within 100 miles of Kerhonkson, NY; post to radio stations within 100 miles of Kerhonkson, NY; other tasks as requested and directed.
On-Site During the Conference:
Audio/Visual/Tech
We are seeking technologically adept individuals who will manage the recording devices in the conference rooms and panel areas and may be called upon to:  assist with conference room set-up from white boards & easels to more complicated technology (if presenters bring a projector); assist staff, vendors, attendees with on site WiFi; work with hotel and Conference staff to trouble shoot CTCW mobile devices; general support as needed.
Hospitality
The Hospitality Room is seeking volunteers to act as host to conference participants who would like to hang out, have a snack or find information about all of the great classes going on. Volunteers would fill up snack bowls, keep the room tidy, provide information on classes and scheduling, and act as a liaison for event staff.
Operations & Security
Volunteers are needed to provide general support and help the conference run smoothly. You will be working with our Security Director and may be called upon to: open/close the conference and vendor rooms; deliver/pick up equipment/supplies; set-up/breakdown; act as a liaison to presenters; monitor crowd flow and check for badges, and provide general support as needed.
Photography
We are seeking an individual with a good eye who can photograph speakers, panels, classes, events, and conference goings on.  You may use your phone for photos, but the photos you take will be used for our marketing materials.  We are happy to give you credit as the photographer.
Registration
We are selectively looking for reliable and honest people to work under the direct supervision of the Registrar.  This position will involve registering attendees on site for the conference, collecting cash and credit cards using Square, directing people to classrooms, the hospitality suite, hotel rooms, the vendor rooms, and Dealer's Row.  We will only accept people who our Registrar, Conference Chairperson, and Founders know personally.
Social Media Marketing
Our Conference Chairperson and Marketing Manager is seeking a few individuals who will be working directly with her during the Conference to share our event with our followers on Social Media.  These individuals must be familiar with Facebook, Twitter, and Instagram.  Individuals must be willing to use their own mobile devices to share positive experiences, photos, and sentiments through these social media platforms.
Vending Assistants
Vending assistants will work with our Vendor Manager as directed to assist our vendors, readers, and practitioners.  You may be called upon in a variety of capacities:  assistance with load-in and break-down; provide vendors, authors, readers, practitioners, and those who have displays with breaks by staying with their tables and securing their belongings; provide general support as needed.
To offer your services, please fill out the form below. You will be contacted by our Work Exchange Coordinator.
Error: Contact form not found.
No sheets available at this time.