movies
Werewolves- History and Legend with Tchipakkan
I'll cover shape shifters and lycanthropes from the Norse berserkers to the witches of the early renaissance, (mostly concentrating on European) to modern interpretations in media, gaming, and magickal theory and practice. What do these accounts have in common, and what does modern shamanic practice show us about these legends?
Share this!
I just rewatched Disney Pixar's lovely movie Inside Out, and once again was struck by it's brilliance. (If you still haven't seen it, do- and wait for the scenes in the credits!) The idea is that inside of all of us are emotions that direct our actions, and there are islands of traits that fuel our personalities.
This story follows the activities of Joy, Sadness, Fear, Anger and Disgust as they experience Riley, the eleven year old girl they form, deal with moving. I think one of the major points in the movie is that while Joy understand that Fear keeps Riley safe, and Disgust keeps her from being poisoned, and Anger is useful, she doesn't see the need for Sadness. But as things develop, they discover that while Sadness can make even the most joyful
memories sad, that this also leads to empathy and closeness, and is more necessary than they realized.
I also appreciate that even Joy- the very personification of happiness, often has to force herself to find a way to choose Joy.
Sometimes, especially when everything is going wrong, the advice to "Choose Joy" can feel both simplistic and condescending. This is advice only suitable for giving to oneself. Using it as an affirmation, or a reminder to put in the effort to look at the bright side of a situation is a personal choice.
This can be especially hard when those around you are ignoring all the input from your other inner feelings, acting as if they are not valid and haven't been created as responses to what we experience. There are situations where "If you aren't outraged, you're not paying attention" is a valid response. Certainly one person's rights don't justify them abusing those of others. First, stop the abuse, then work to find a compromise solution. But first stop the abuse. While healing a bad situation does feel good, it is not "joyful" to be aware of one.
But whether making lemonade when life gives you lemons, or chucking them at the bozo who thought it was fun to give you lemons instead of the grapes (or even the onions) you'd requested, we live in a constant cycl
e of what happens affects our emotions, and our emotions affect our responses and actions. (BTW this lovely chart is from an article about this interaction and using the system eft to deal with it – click here to read it.) When we accept these reactions and learn to work with them, rather than just ignore the ones we don't like, we do better. I'm sure we'd all like to never feel uncomfortable, but each emotion has its use (as the movie showed graphically).
But we'll be exploring Joy this year, so plan to come in November, and keep checking the blog!
Save
Save
Share this!
Please join Tchipakkan on the New Normal 8 pm Wednesday, 1-20-16, 8-9 p.m. est.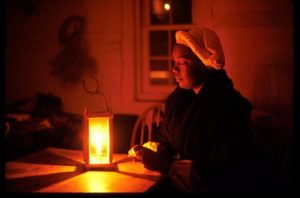 This week we are going to talk about books and Pop culture Magick! I love books, and most of my friends do too. This week my guest is going to be Jane Gray, (aka Elegant Mess) who is a Second Generation Geek, posing as cheerful and mild-mannered Bookwitch. She's a literary critic with a penchant for purple, paperbacks and pretty costume dramas.
On facebook you can check out her page Jane Gray, the Bookwyrm's Lair. On Vimeo, you can see some of her reviews on supernatural subject matter at Elegant Mess on Vimeo.
We'll probably talk about recent and upcoming books she's read (what's your "must read" list for people who are interested in magick?), While setting this up she mentioned an upcoming Lovecraftian horror "life of Lizzie Borden".
We're also going to talk about Popculture magick, a subject that gets a lot of attention at the CTCW conference. The truth is, that magick is mostly learned by personal experimentation, and we get a lot of our ideas from the fiction we read. The popular fiction of the last century has shaped the magic we use in the 21st. I know there are a lot of authors from Bob Asprin to Kathrine Kurtz who have had as much impact on my understanding of Magick as any of the "how-to" books from Llewellyn!
Please join us, and call in with any stories or questions: 619-639-4606
To listen live: open a window on your computer to www.Liveparanormal.com, sign in, and click on Shows, and the New Normal to listen. To listen later at your convenience, shows are archived by date on LiveParanormal.com here, and they're organized by date, topic and guest on Tchipakkan.com .
Share this!