Youth and the Perception of Magick on the New Normal
Follow Us!Share this!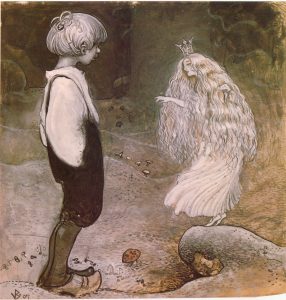 Please join Tchipakkan and Thor Halvorsen on the New Normal 8 pm Wednesday, – January 24, 2018,, 8-9 p.m. edt.
Miss the live show? Listen to the archive here:
http://tobtr.com/s/10546001
At some point many young people start noticing things we'd describe as magick, and try to learn more. Some explore on their own, some find books, others look in their community, a lucky few have family members who can teach them how it works, and how to develop their talents. (How to avoid easy mistakes!)
Everyone is psychic to some extent, with empathic or other talents. Some help comes from having a good grounding in folklore, and different religions can help or confuse the issue. Fairy tales have created stereotypes of witches as outlaws; every historical period has its own fears, whether Vikings or the atom bomb, the Black Death or AIDS, growing up is scary, and understanding magick can help you feel more in control of your world- but a misunderstanding can make you fear it.
If you started looking for magical mentoring when you were a kid (or teen) or have been a magical mentor to a youth, give us a call between 8 and 9 Wednesday 619-639-4606 (live only).
If you can't make the live show 8-9- and have a question or comment, please feel free to write me a message and I'll read it on the air.
Want to listen later? Live Paranormal.com archives its shows by date, and I archive them by date, guest, and topic on my website: http://tchipakkan.wordpress.com/the-new-normal/directory-of-podcasts/ <http://tchipakkan.wordpress.com/the-new-normal/directory-of-podcasts/%22%20%5Ct%20%22_blank>

Hope you can join us tomorrow night from 8-9 at the New Normal. http://liveparanormal.com/<http://liveparanormal.com/>
To listen on your computer, open a window on your computer to www.Liveparanormal.com <http://www.liveparanormal.com/>, click play.
If you can't tune in while we're live (8-9 pm), all Live Paranormal.com shows are archived by date, and I'll post the link to this show here after the show. If you know you're going to listen later and have a question you'd like answered, look on the facebook events page and leave a question there. We'll try to answer it during the show.
Save