Workshop Spotlight: A Touch of Acupressure
Follow Us!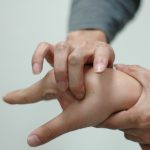 Let's get right to the point -a weekend convention is lots of fun, but too much fun can take its toll on your body. Basic acupressure (no needles involved) can help you regain your health and center, as well as strengthen your health in the long run. All in as little as one minute per issue per day. (Yes, you did read that correctly…).
In this class, learn simple points to relieve sinus and migraine headaches, give you an instant "burst of energy" (without a post-caffeine slump), relieve pain and other helpful applications. Practical, easy to learn skills that you can use immediately.
Catherine Kane is a professional psychic, a Reiki Master, a bard, a metaphysical Christian, and  a delighted student of the Universe (amongst other things). She brings creativity, an eclectic body of knowledge, and an attitude of fun to
empowering people to find and live their best and brightest dreams. Her writing has been seen in magazines such as Thorn, the Door Opener, and Helix; and she is the author of "Adventures in Palmistry" and "The Practical Empath", "Manifesting Something Better" and "The Psychic Power of Your Dreams".  Visit her and husband Starwolf online as Foresight (the Information you need for the Adventure of Life) at www.ForesightYourPsychic.com and www.ForesightYourCtPsychic.wordpress.com
Share this!