Workshop Highlights: Tarot series on Saturday
Follow Us!Share this!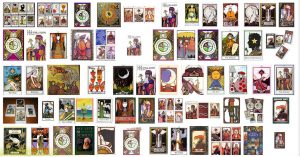 Saturday between lunch and supper Tarot lovers will be able to attend three workshops on the Tarot one after the other (with rest breaks, of course). First Kathryn Smith presents Mapping the Major Arcana on the Tree of Life: A survey of Systems, this is followed by Lois Fitzpatrick with the Tarot Major Arcana (last year she did the Minor Arcana). These are followed by A meaningful life with Tarot with Stone Riley. You also may wish to get to the Panel on How to Read Court Cards just before lunch in the Atrium.