Follow Us!Share this!
A year ago, when the pandemic was what we were all thinking about, and Toilet Paper was the coveted item*, many people were mentally exploring apocalyptic scenarios, and trying to figure out what would be the most secure commodity to stockpile for trading if everything went horribly wrong. Some said gold, some weapons, some TP, some canned goods, but one type of post thought seed packets would become the new currency. I loved this idea, although clearly, as anyone who garden knows, seeds devalue with time. Yes, everyone needs food to eat, and seed packets store and are easier to use than starter livestock.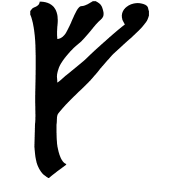 To call in some of the occult CTCW-style perspective, I'll mention the meaning of the rune Feoh or Fehu, the first rune in the Futharc. It stands for wealth, our word fee is from the same root, but more than gold, it refers to herds and flocks. Your livestock was your movable wealth. The symbolism intrinsically shows that it must be moved- flocks cannot thrive penned on one piece of land; older animals must be culled and new ones born for a herd to thrive. In the same way, money must circulate to be healthy. Money must not be hoarded; just as a stream that does not move becomes stagnant, hoarded money becomes cursed. I love the explanation in the musical Hello, Dolly: "Money, pardon the expression, is like manure. It's not worth a thing unless it's spread around, encouraging young things to grow." Money must be kept moving. Seeds must be planted, and gathered again to be planted the next year.
I love the idea of people recognizing the value of a packet of seeds as being greater than gold or diamonds (or even TP), but I expect that people don't have the awareness of how seeds have and retain value any more than they have appreciation of the importance of these links to the future in the circle of life.
If I may pontificate, wealth is a live growing thing, the love of friends and family, the good we do, the blessings we pass along to those who come after us. When we die, what we take with us to wherever we go will be the love and (I hope) memories of what we have learned and experienced to take on to other lives. I doubt we think much about what we have accumulated, but what we have accomplished during our lives. What we leave behind should be something that will continue to express our care for those who come after us. Every lesson of kindness that we pass on to friends or strangers is to leave the world wealthier: like seeds, they will grow into the same kindness that we plant in the hearts of others.
*I learned sometime last year that the problem was that pre-Pandemic, over 40% of TP consumption was at work, and the apparent shortage was from the producers having to switch from producing the big rolls for the offices and other commercial users, and back to Charmin, Scott and Cottonelle. Just as today when some insecure folks are fighting over and hoarding gasoline since there was a pause in the distribution, it took a while for the production and distribution system to adjust. It makes sense, if most people sleep a third of the day, and are at work a third of the day and at home the other third, that half the use of TP takes place at work. This is not important, but I thought it was interesting.