Follow Us!Share this!
We have Dealers, Vendors and Readers! Don't forget to visit them all.
The Readers are out on the upper Mezzanine beside the Vendor Room.
The Dealers Row are in the rooms across from the board rooms (smaller class rooms) and Quiet Room (rooms 101-107).
The Vendors Room is in Coach Room, where we also have the Art Show, and the Author's Table.
As you get ready for CTCW please remember your upcoming holiday shopping! Buying from local craftsmen is a wonderful thing! And remember beside your friends the upcoming festivities or circles, or grab bags, and gift for exchanges. Our author's books and craftsmen's wonderful wares are perfect for these occasions!
Our Vendors and Dealers:
Akasha's Journey
Akasha's Journey offers a variety of hand crafted and magickally charged products including Reiki tools, crystal sets, black scrying mirrors, mojo bags, candles, and custom altar cloths.  I have a line of "Portable Pagan" items that include mini altars and mini altar tool sets.  I also have a line of "Pagan Pet" items that include pet healing mojo bags and magickally charged pet bandanas.  I offer Esoteric Consultations including Natal Chart casting & interpretation, chakra crystal energy therapy, power animal retrieval, Medicine Card, & Tarot readings.  I am also overjoyed to over a variety of healing modalities including Reiki, IET, and Run Valdr.  All healings are offered for both humans and their pets or familiars.
http://www.akashasjourney.com/index.html
Auntie Arwen's Spice Blends
Auntie Arwen's Spices offers a huge selection of seasoning blends, from the flat calm to melt-your-fillings hot. We also have fudge, teas and coffees, and some interesting miscellanea and closeouts.
http://www.auntiearwenspices.com/
Aura Photography with the LoonWitch
http://loonwitch.com/readings.html
Cabochons
Cabochons- silver jewelry, long stripey stockings, hand painted silks, unique jewelry with semi-precious jewelry, ceramic figurines, votifs and cookie stamps, Tchipakkan's cookbooks, wood burned and painted boxes, and more…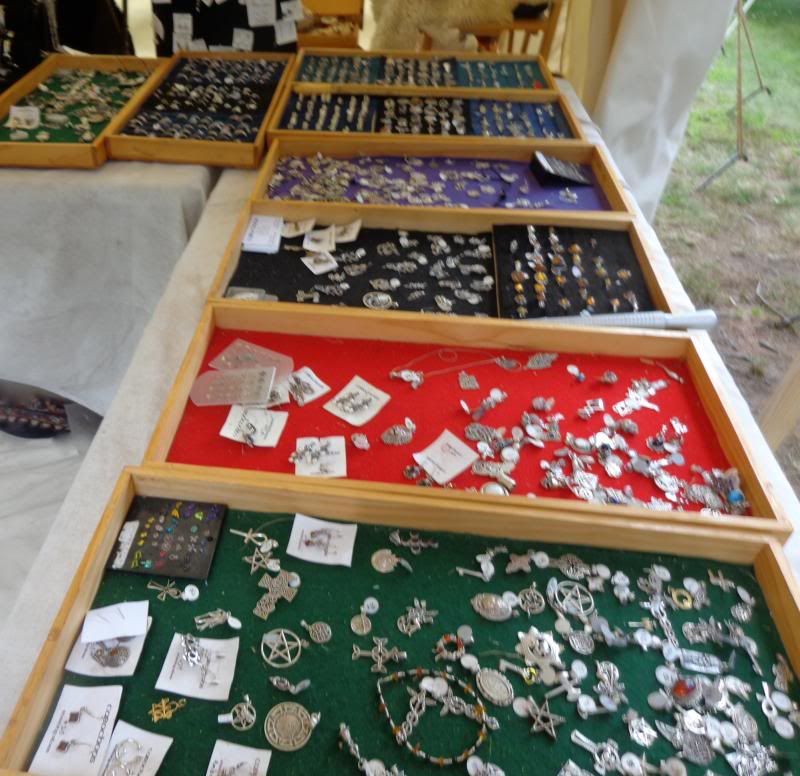 www.Tchipakkan.com

Garden of One: Are  you ready to Bloom?
Lady Liberty Farm
GARDEN of ONE ~ Tools to Transform
The Garden at Thunder Hill ~ A Center for Spiritual Evolution
Rachel Ginther
60 Thunder Hill Road
Rensselaerville, NY  12147
(518) 797-3373 – Voice
(518) 797-3378 – Fax
Web Site ~ http://www.GardenofOne.com
http://www.thekitchenalchemist.com
http://www.ladylibertyfarm.com
http://www.wildearthbotanicals.com
E-Mail ~ rachel@GardenofOne.com
Blog ~ http://gardenofone.blogspot.com
500+ Flower/Vibrational Essences & Aromatherapy Products ~
Private & Small Group Retreats ~ Sessions ~ Classes,
Lectures & Events ~ Labyrinths, Sweatlodge & Peace Pole ~
Sauna ~ Ionizing Foot Bath
The body heals with play
The mind heals with laughter
The spirit heals with joy
Essential Oils
Certified Pure Therapeutic Grade Essential Oils: Naturally Safe, purely effective; Guaranteed!
Discover how to protect your family's health with nature's most powerful medicine, essential oils.  Learn how to replace harmful synthetic pharmaceuticals with the only oils pure enough for internal use.   They have calming, anti-bacterial, anti-viral, and anti-inflammatory characteristics.  Check out www.godoterra.com for more information or attend one of our workshops to learn more!
www.totallyessential.org
Totally essential is a group of Essential Oil Consultants who lead workshops & personal consultations on how to use Essential Oils as a natural alternative to synthetic pharmaceuticals.  There will be a variety of workshops available to choose from.  Personal consultations with BioFeedback surveys are available upon request with appointment.
Sign up for our newsletter:  http://eepurl.com/vqVtb
Dragon Hollow Design is a new small business based in Norwich CT. We began operations in September 2013. Our primary business is laser engraving. Laser engraving allows us the flexibility to engrave on a wide variety of materials including wood, glass, anodized aluminum, laserable plastics and many more.
Our engraved products line includes personalized gifts such as:
Picture Frames
Drinkware
Mirrors
Votive Candle Holders and more.
In the near future we will also be offering Custom Made Stained Glass, Graphic Design, Wood Carvings and more.
Our goal is to provide the highest quality products and services at reasonable prices.

Dragon Hollow Design
860-861-6200
dragonhollowdesign@yahoo.com
www.dragonhollowdesign.com
OrgoneIAm Energy Products
Orgone Energy Technology offers pendants/pyramids/intention boxes and also metaphysical tools along with yoga mats, tapestries, spiritual jewelry, decor and apparel.
Stardust_Blessings@yahoo.com
Phone: 845-541-4599
Like us on Facebook.

Ganesh.  Sedna.  Chango.  Athena.  Experience the Spirits and spiritual landscapes through the keen eye and vibrant palette of artist Sophia Kelly Shultz.  Get a sneak peek at the artwork for her soon to be released Stone Circle Oracle deck and book; keep some of the energy for yourself or for your friends with her original watercolors and diverse selection of prints and greeting cards.  Sophia is a working artist and loves company and conversation while she works:  stop by to talk about art, spirituality, and life!
All forms of payment accepted except for first born children and Discover.
http://badgersoph.deviantart.com
Our Readers
On the upper Mezzanine
Lynne Hartwell, Crystal Readings (Friday only, see also bio in Speakers)
Tanya Tarail, Medical Intuitive (also see bio in 2010 Presenters)
 Seanara Coyote, Tarot Reader & Adviser (also see bio in Speakers)
Rev. Tiffany White-Sage Woman
Airikir (also see bio in Speakers)
Sunday Only:
HennaDancer and Con Flair Buttons offers beautiful henna and glitter body art and custom pin-back buttons made while you wait.
www.HennaDancer.com
Authors Table
Booksignings Friday!
Come meet our authors, in the Vendors room at the Author's Table.
Tchipakkan 2:30 pm (just before her RunValdr class)
Ellen Evert Hopman 3:30 pm (just before her Kitchen Medicine class)
Jane Sibley 4:30 pm (after her Communication with the Gods class)
Catherine Kane 8:30 pm, (after her class on dream work)
Many of our speakers are also authors, and at the authors table (by registration) you will be able to buy a selection of their books.   Among the titles you'll see there will be:
Just out:
"The Psychic Power of your Dreams"
($16.99) by Catherine Kane
Attend her workshop Friday 7-8:30 pm in Coach 3
see more here
"Adventures in Palmistry" ($22.95)  by Catherine Kane http://www.lulu.com/spotlight/CKane
"The Practical Empath :Surviving and Thriving as a Psychic Empath" ($16.99) by Catherine Kane
The "Divine Thunderbolt" by Jane Sibley Jane T. Sibley, Ph.D. (author) is a specialist in Norse mythology, folklore, and runes. She did part of her work at the University of Oslo, and currently teaches and writes.
"Norse Mythology… According to Uncle Einar" by Jane Sibley
A collection of humerous adaptations of Traditional Norse Myths. Watch Odin organize Valhalla, see Loki get his, enjoy Thor riding his harley. This was her first published book, although more are on the way. Joel A. Leib (illustrator) has taught at the Bradley Academy for the Visual Arts since 1994. His work has also been seen in Harley training manuals, McMillan Publishers/Progressive Typographers, and the Strand-Capitol Performing Arts Center, to name a few. Both of us have had fun exploring a humorous side of Norse mythology.
"Divine Cookies" ($20) by Tchipakkan
A celebration of the world's best cookies and the gods and goddesses who inspire them. A veritable who's who in the pantheon of world religions, and 77 cookie recipes which are kid-friendly and delicious. Spiral binding. Wonderful recipes for the pagan sweet-tooth.
"the Heathen Cookie Book" ($10)by Tchipakkan
A collection of Tchipakkan's favorite traditional (and not-so-traditional) cookie recipes, each dedicated to a different Northern Tradition god or goddess. From sandbakkels for Freya to aebelskivers for Iduna, Tchipakkan makes some of the best cookies we've ever had.
"Anglo-Saxon Magick" by Tchipakkan
This is a very brief overview of magick as it was used in by the Anglo-Saxons including both heathen and Christian periods. It is written from the perspective that magick is real, and covers context, types of magick, terminology, characteristic of charms, legality, elements of spells,and sources, as well as examples of Anglo-Saxon spells.
"Secret Medicines of your Kitchen"
Attend the workshop Friday 4:15-5:45  in Coach 3
"Scottish Herbs and Fairy Lore" and many other wonderful books by Ellen Evert Hopman!
Our vendors room is now full, but if you would like to sell at CTCW in the Dealers row, please contact us at vendors@changingtimeschangingworlds.org. Also contact us to put an ad in the program book or join us next year!