Vendor Spotlight: Akasha's Journey
Follow Us!Share this!
Akasha's Journey is a alternative healing center (brick and mortar home at 191 Poplar Hill Rd, Wassaic, NY 12592   (845) 729-8999) who will be a dealer (selling from her room off the atrium) at CTCW.
Akasha's Journey offers a variety of hand crafted and magickally charged products including Reiki tools, crystal sets, black scrying mirrors, mojo bags, candles, and custom altar cloths.  You'll be able to get Aura Photography, Reiki, Tuning Fork Therapy, Integrated Energy Therapy, Crystal Healing, reflexology with tuning forks, Aromatouch Essential Oil Therapy, Wellness Consultations, healing crystals including clusters, specimen pieces, crystal skulls, hearts, rune sets, hand crafted healing packs for the microwave/freezer, Tarot cards, books, meditation CDs, hand crafted jewelry, pendulums, scrying mirrors, metaphysical oils, essential oils, hand crafted tea infusers, and lots more.
"I have a line of "Portable Pagan" items that include mini altars and mini altar tool sets.  I also have a line of "Pagan Pet" items that include pet healing mojo bags and magickally charged pet bandanas.  I offer Esoteric Consultations including Natal Chart casting & interpretation, chakra crystal energy therapy, power animal retrieval, Medicine Card, & Tarot readings.  I am also overjoyed to over a variety of healing modalities including Reiki, IET, and Run Valdr.  All healings are offered for both humans and their pets or familiars."
Highlights include Crystal skulls and Aura Photography.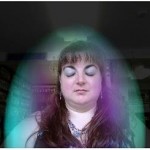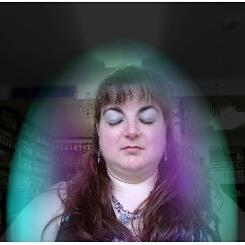 Maryalyce, aside from teaching and selling also runs our healing/quiet room. She also put together the lovely welcome bags this year, and if she's teaching or healing, don't worry, Sister Alice will be at Akasha's Journey to help you. (Her daughter Gabriel will be in the vendors, running the Cabochons tables!
Maryalyce is an ordained minister/ priestess, healer and  teacher. In previous years she has taught second and third degree Reiki, although not this year as she wants to share some of her other many skills which include IET, RúnValdr, herbal, sound and crystal healing. She also teaches Tarot and Medicine Cards, Witchcraft, and Witch-Crafting (making magickal tools).  Her path and passion is to to feed, educate, and empower the world community. She's also a dog lover, and you may encounter her lovely rescued Bouvier de Flandres dog, Bear.  Part of Maryalyce's dream is to make healing & learning how to heal accessible to the community and the people who truly desire it, and of course, the beautiful animals who cannot ask for it themselves.  www.akashasjourney.com
"She changes everything she touches and everything she touches changes"