Vendor/Reader Spotlight: Raven's Own
Follow Us!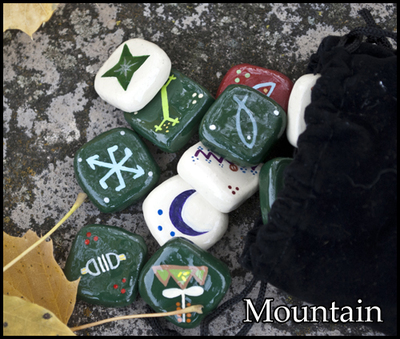 Kahina Stones are a divination system based on the symbolism and culture of the Kabyle. "Kahina" is the Kabyle word for "Wise Woman," as the symbols are traditionally women's magic. The Kabyle are a subgroup of the Imazighen, commonly known as the Berbers, and is part of a North African culture originating from Egypt and Ethiopia some 10,000 years ago. The word Berber is derived from the term Barbary, a word used to describe the Maghreb coast and stemming from the Greek "barbaria" (barbarian). Barbary sailors and pirates were Berbers, as were the Moors who ruled southern Spain for 800 years. Today the symbols are still used in tattoos women wear, the textiles women weave, the pottery women make, and they adorn the central structural pillar of many homes (which is also called "the woman").
Falling somewhere between Tarot and runes, Kahina Stone readings can offer simple answers or detailed descriptions, depending upon the layout used and the question asked. Stones fall into three base categories: Akeffadh (fruitful), Ilelli (neutral), and Ilem (drought). These determine which aspect the symbol falls into, and what general tone the tile can take. However, where the tile falls in the chosen layout can also cast its own emphasis on the meaning of the tile. For example, an Ilem tile in a position of assistance still means the drought tile is uncomfortable, but whatever the discomfort, getting through it or addressing it will be the most helpful thing for the situation. Tile meanings are both practical and magical, like the Kabyle themselves, and readings are informed by history, practical life, and the guidance of an ancestor on the Kabyle side of the family.
Rebecca also works with metal, traditionally viewed as men's magic. A decorative chain-mailler for nearly a decade, she weaves intricate jewelry, meditation tools, pendulums, and decorative items. Cherif works with polymer clay to create adorable and creepy critters based on mythology, sci-fi/horror, and his own imagination. They also offer original paintings, prints of their original pieces, and both the Kahina Stones and the instruction books, both at events and at ravensown.storenvy.com.
Photos can be viewed and downloaded here: https://drive.google.com/open?id=13oxyQUKX960jV0A2IZUq-GWdG6eBwctI
Thank you so much for your patience, and let me know if you have any questions!
Raven's Own
Curios for the Curious
ravensown.storenvy.com
ravensown@gmail.com
Share this!