Follow Us!Share this!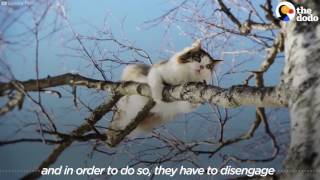 It's a pretty good analogy. We've all been there. Trying something new, and the skill set to support it has not been learned yet. We end up out on a limb, and unable to do what we intended, or even go back and think it over again. Eventually treed cats do manage to get down. Occasionally, they need help.
We had an indoor cat that got out once, and when we found him, he'd been in the tree overnight. Sadly when we tried to reach him with a ladder, he kept climbing up farther. We lengthened the ladder to the max, and eventually got badly scratched saving the non-cooperative cat. How often do we hurt those who are trying to help us?
But does this mean we shouldn't attempt new things? No. It means we should take some advice from those who know what's involved and set the skill sets needed to expand our horizons. Also, we need to learn how to cooperate with those who are helping us. We can be holding on too tightly to the things we hope will give us security, as the cat holds the branch, and doesn't want to be lifted off.

Be proud of yourself when you recognize that you need help and ask for it. It's a powerful level of self awareness that will lead to greater learning. The Tree will still be there, and someday you'll have the skills and strengths to climb it. Current limitations are not permanent, but you're better able to build on them when you are aware of what they are. Did you ever go down a ladder or stairs in the dark and fish for the next step or rung, only to discover you were almost there, but didn't realize it? Remember that lesson, and also, try to keep track of how far you have to go.