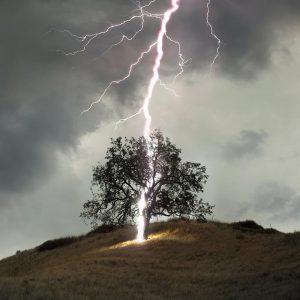 What do a tree and a wand and a tall building have in common?
They are all about the energy flowing through them!

One of the reasons wood makes great wands is because that's what it is made for. From root through the trunk to the limbs, to the branches, to the twigs, the moisture and nutrients flow up to the leaves, the energy from the leaves flows down to the rest of the tree, up and down, distributing everything through the tree. When someone makes a wand from a tree branch, the energy naturally flows from the person's hand through the wood, and out the end, like water from a hose, continuing out into the world, toward whatever the holder is pointing the wand at!
If there is too much energy in the clouds, the lighting, looking for the easiest path to grounding, finds a tree top, and follows the natural path down into the earth! This is why people invented lightning rods to go on buildings. A pathway of something that conducts well makes it more likely that the energy will flow in the most conductive pathway- thus sparing the rest of the building problems.
But the buildings also contain pathways for human energy, which is what the science of ergonomics looks at. People, like lightning, are going to flow in the paths of least resistance. One of the images of the universe is the World Tree, and people can travel from one world to another along the branches, to get from Midgard to Asgard to Jotenheim to Helheim…. Travel flows through the tree, the branches provide connections between the worlds. Like a wand channeling energy, the world channels it's energy through trees, and through people (or anything that houses people).
What's a long distance? Do you immediately think of roads and paths? How about stairways? There are races up and down tall buildings.(102 floors in the Empire State Building!) That's a long way! There are many variations on long distances, but they all are some variety of traveling through space. We are the electrons that flow through the pathways, the 'wires' of the spaces where we live. Our energy flows through the world, the worlds. Be aware of yourself as one part of the energy that flows through the many worlds of the multiverse. Perhaps you can become aware of how you are moving, and how you may choose to direct your personal energy to go where you want, rather than simply along the path of least resistance.