The 10 Second Stress Release
Follow Us!Share this!
Guest Blogpost By Catherine Kane
We're living in challenging times- and that's stressful. We all need techniques to manage stress and negative energy.

Here's one.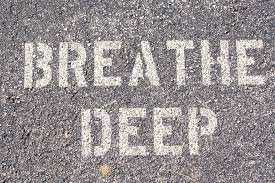 The next time you're feeling anxious, angry, overwhelmed or down, instead of suffering, try this:
Take a deep breath,
Look up at the ceiling,
And slowly sigh the breath out again.
(Repeat as needed…)
Give it a try now. Think of something that brings you down (income taxes, your least-favorite co-worker, cleaning out the fridge…). Notice how it makes you feel, where it hits you in the body and in the spirit…
Then breath deep, look up, and sigh. Feel the difference?
While it's no substitute for Prozaac, most people find that when they do this, they feel more positive, centered and able to cope with whatever's going on in their lives.
Why does this work?
When we're stressed, we breath short and shallow. Breathing deeply and slowly triggers a mind-body connection saying "all is well", and actually puts us in a better place, health and emotion-wise. Looking up seems to strengthen this reaction (and when I'm facing challenges, I find looking up valuable for spiritual reasons as well…).
I like to think we're all hardwired with ways to change our beliefs, heal ourselves, find our centers and create our own best lives.
In any case, remember next time you're feeling overwhelmed or down, breath deep, look up and sigh… and have a better day.
P.S. Just a thought- don't do this in front of your pushy aunt, Margaret, your boss or any other person contributing to stress you're feeling. They'll surely take it the wrong way and this is the path to more stress…