Thank you to everyone who came!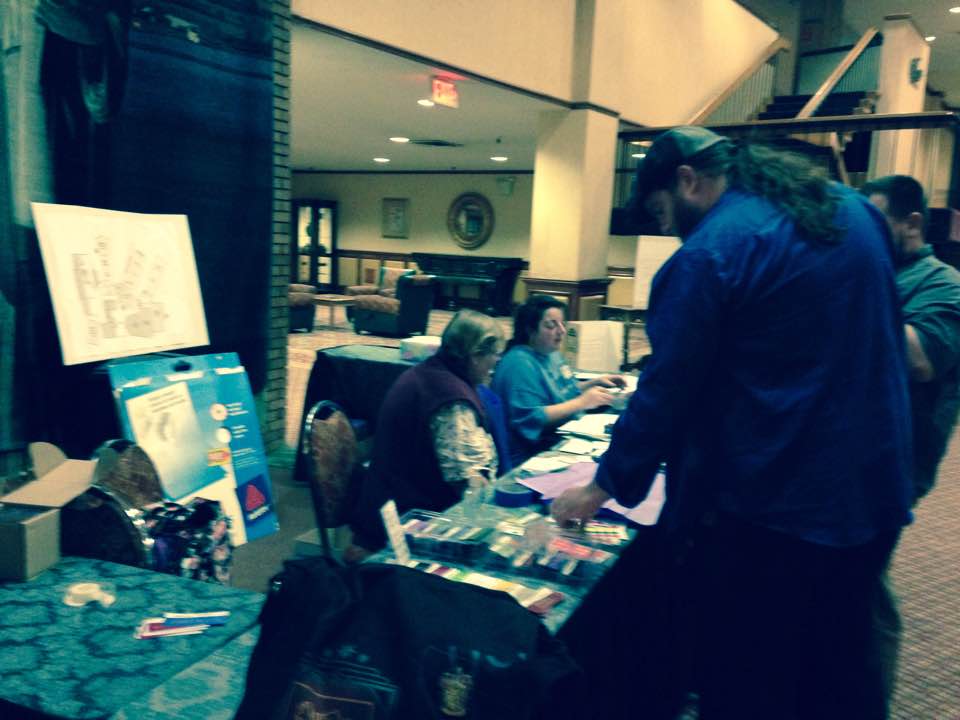 Follow Us!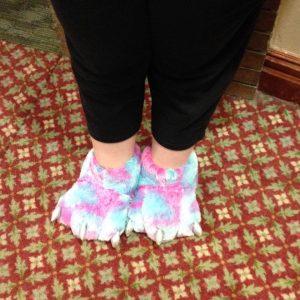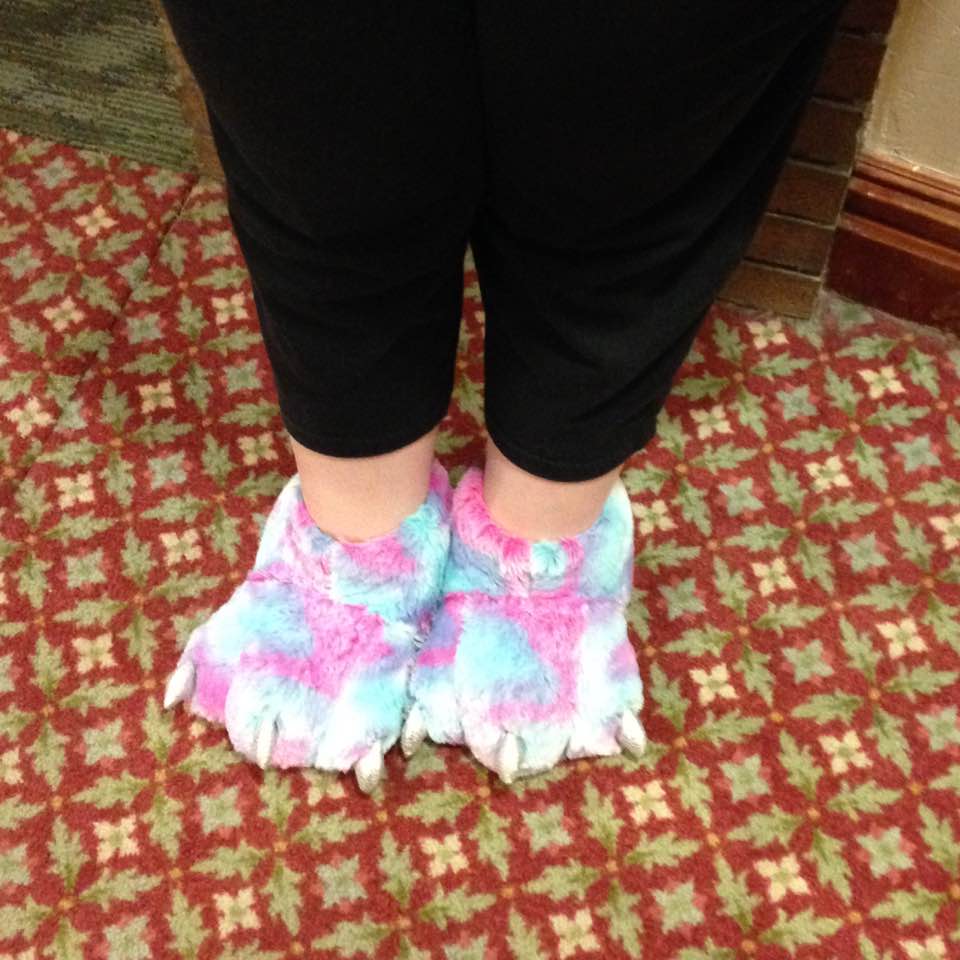 This year's CTCW has come and gone and it was amazing! I hope that someone else got pictures, because I forgot to take any! (except one of Maryalyce's feet- great slippers- her expression of the wolf-pack energy this year! What a cute wolf she makes!)
Jane and Mary made offered grounding snacks, some quite meal-like at hospitality- hidden down the 400 corridor, that reminded many of a ships gangway. I only wish it had been closer to the classrooms.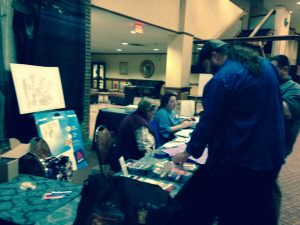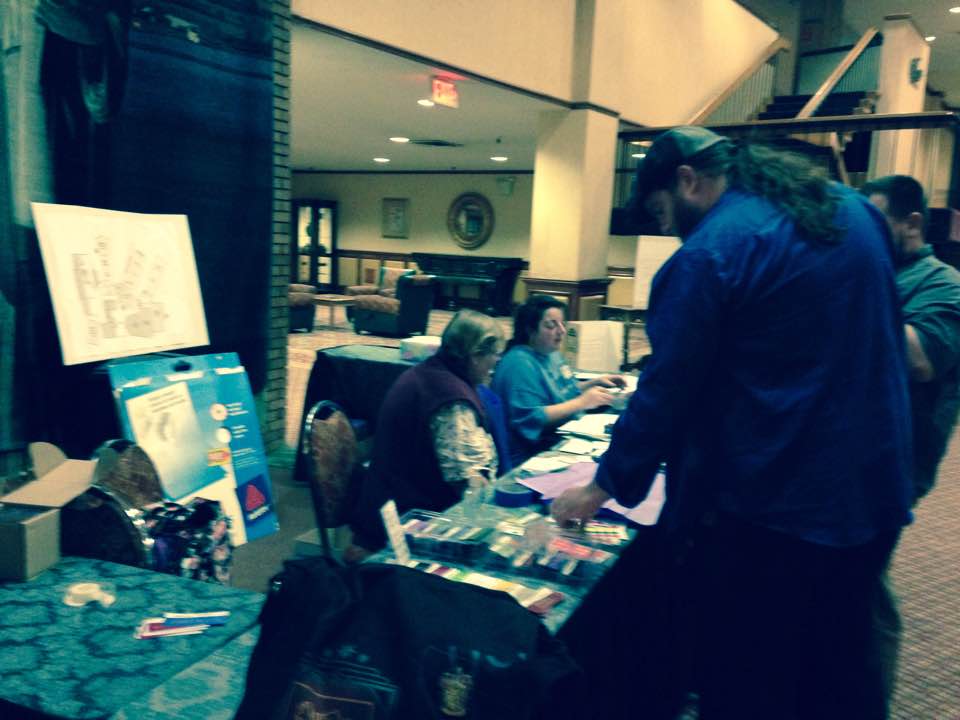 Many thanks to Niffer and Lois who ran the Registration, under the lamp of Lady Liberty in the HUGE lobby of the Hudson Valley Resort. Jokes were made about it reminding people of the Overlook from the Shining because, no, it wasn't right off Rte. 91 as the hotels in Cromwell and Northampton were, but wow! the views were incredible. I was more reminded of the resort in Dirty Dancing, possibly because I expect this is in the Borscht Belt. It's huge; we hardly touched the possibilities.  The grounds- which I hardly saw except through the windows- were beautiful. On the way out I saw many Roman style statues- Gods? Muses? I'm not sure. I want to check them out closer next time!
Some things may change over the year because they are apparently under new management that is planning extensive renovations. That would be nice, but I was very happy with the accessibility, (although leveling the floors a bit more would be good) the ramps were wide and gradual.
The vendors and dealers were amazing! Best in our 8 years (of course, many are returning)!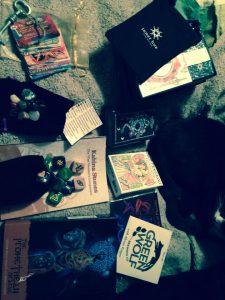 This year they put our guest rooms on the same floor as the dealers row, and we had so many vendors and readers we split them in two and took the end of the ballroom for the vendors. The lighting was not good for seeing the goods, but they were gorgeous- I wanted to get far more than I could afford! I indulged my (shall I be honest and say addiction?) joy in gathering new systems of divination- I even won a new set of Tarot cards in the raffle! I also got two oracle decks, two tarot decks and two sets of casting tokens, and got one reading. I missed the concert, but slipped in at the end to get a couple of CDs from Rhiannon's Lark.
There were amazing classes- possibly too many. It's SO hard to say no to a proposal that you know people are going to love! Because we had so many, and the healing room was large enough, some appropriate classes were held in the healing room, which meant that there were workshops going on at once, as well as the panels. That sounds wonderful, but it does mean that almost every block one had to pick four or five wonderful things NOT to attend. In theory recording the workshops meant we can at least catch the audio of some of the ones we missed, but the recorders were not as cooperative as we'd have liked, although Doug, our wonderful security and man-of-all-work and I tried to keep them properly distributed and functioning, we won't know how many we managed to catch until I get them down (then up)-loaded to the site. Do check for that.
The panels were wonderful. I loved the foyer full of couches for creating a casual and intimate atmosphere for sharing our views, experiences and opinions. I'll admit that some of those old couches almost ate people, but I think we managed to get everyone out. Topics ranged from House Spirits to City Spirits, Magical Tattoos to Herbalism, Palmistry to working with Problematic Ancestors. I would have loved to get to the Art as a Spiritual Practice (what was I doing then? Oh yes, teaching the Werewolf Workshop), and we also didn't get as much participation in the Art show as I think we would have had we put more information about it. Badger Sophie took first prize this year, and I hope we can do better by the artists in future.
The food at the buffets the hotel put on was wonderful (although I'm still not a fan of turkey bacon), and not having to leave the hotel to eat was a great time saver! I am still reveling in being able to actually attend workshops and panels since I'm not in charge anymore. May all the appropriate gods bless Maryalyce and her volunteers for taking over, so I can just indulge myself by helping where I choose! Thanks to Lois for organizing the Vendors and Readers! Thanks to Kathy for handling the scheduling and creating the program book! Thanks to the readers and speakers who came and shared their expertise, and the Vendors and Dealers who brought all that cool stuff for us!
This year the theme was Joy, and I have to say that the conference lived up to that theme!
Share this!