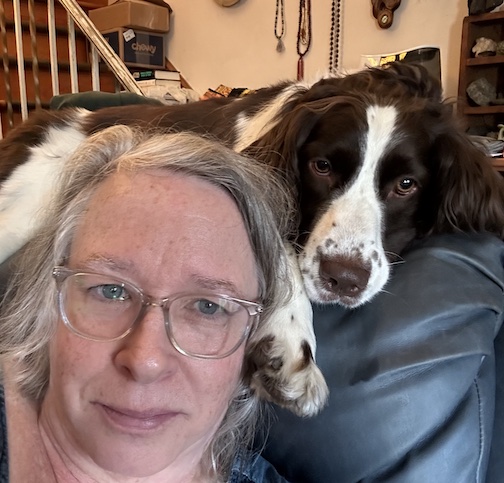 As a child, Sophia Kelly Shultz grew up in house where doing art was like breathing and creation could occur at any hour of the day or night. Here, she was introduced to sketching, pen and ink drawing, colored pencils, and various types of paint; later, her best friend's mother, taught her her first embroidery stitches.
While at the University of Pennsylvania, she found a niche doing "fantasy portraits" of Sci-Fi con attendees. The parallel discovery of science fiction costuming, 1980s bridal beadwork, and her best friend's "fancy work," led to award-winning fiber art, including her accidental crazy quilted robe, My History's Embrace, which was based on one of her paintings.
She is the author and illustrator of The Stone Circle Oracle, The Promethean Oracle, and Seeking the Spirits of Palo Kimbisa (Schiffer Publishing, Atglen, PA)
She works in an attic studio of the 140-year-old Pennsylvania house with her husband David, an enthusiastic Springer Spaniel and a very small, very bad cat.