herbs
Jane T. Sibley, Ph.D., known in the SCA as Arwen Evaine, or at her shop as "Auntie Arwen" is a traditional Norse practitioner and a specialist in Norse folklore and  runes. (These pictures show her at the Society for Creative Anachronism, because the clothes there are more fun! Also in the SCA she can openly teach many of the subjects like herbalism, runes, and folklore.) She has taught at many Pagan events for decades, including at Rites of Spring, Feast of Lights, Twilight Covening, Beltane, Ecumenicon, Etheracon, Harvest Gathering, … the list goes on. Among other accomplishments, she is the co-chair and creator of Changing Times-Changing Worlds, and she created MithraCon, a conference on Mithraism and other cults in the Roman Empire.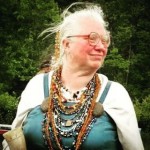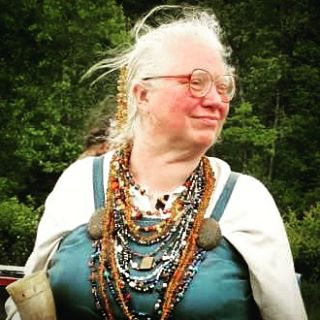 Her herbal expertise is expressed in her shop Auntie Arwen's Spices, where she sells many herb and spice blends as well as unique items from her varied interests and activities.
She has written several books ranging from the humorous: "Norse Mythology…According to Uncle Einar", the novel "The Hammer of the Smith", to the academic "The Divine Thunderbolt: Missile of the Gods", and soon to be published: Way of the Wise: Traditional Norwegian Folk and Magic Medicine, as well as the true adventures of "A Different Dragon".
Share this!
HERBAL WINTER REMEDIES.
During this workshop about how to prepare for winter coughs, colds and flu. We'll make several simple effective herbal remedies including elderberry syrup, sage-horehound cough drops, and Echinacea tincture. Participant will take home recipes and samples of herbal remedies we discussed during the workshop.
Share this!
Auntie Arwen's Spices

Our own Jane Sibley brings some of her shop: Auntie Arwen's Spices, which offers a huge selection of seasoning blends, from the flat calm to melt-your-fillings hot. Please do open the jars and sniff. Also read the names; with such combinations as Monkey on a Stick, Vermont Happy Dance (cinnamon sugar), Volcano Goddess Wasabi, or Cosmic Rainbow (organic Masala) they are almost as much fun to say as sniff. When you smell them, you're going to want several.  She also has salts from all over the world (I've drawn mandalas with various colors of the salts), peppers from mind to "sign a waiver before buying", organics, extracts, rubs, and so much more. She also has teas and coffees (probably available to sample in Hospitality), may bring her fudges, and has some interesting miscellanea and closeouts.
Check out her Featured Products
Share this!