Speaker Spotlight: Tracy Andryc
Follow Us!Share this!
Tracy Andryc has been sharing her love of the labyrinth since her first walk on its path in 1998. She sees the labyrinth as a universal tool that can be used in a magical/spiritual context, regardless of your religious path. Tracy received her training from The Labyrinth Guild of New England and the Reverend Dr. Lauren Artress, author and founder of Veriditas. She takes a holistic approach to her labyrinth work by incorporating other modalities such as Reiki, crystal grids/healing, breath work, sound and sacred dance. For almost two decades, she has facilitated workshops and rituals on the labyrinth and other topics at venues throughout New England.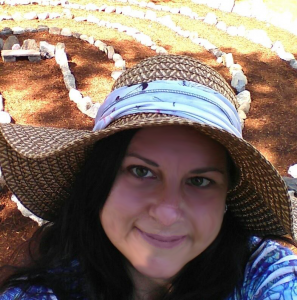 Tracy is a Veriditas Certified Labyrinth Facilitator, Certified Birth Doula, Reiki Master, Crystal Healing Practitioner, and the owner and founder of One Path Labyrinth Ventures. She is available for facilitated walks, workshops and rituals, Reiki and Crystal Healing sessions and classes, and labyrinth building consultation. lives in Seekonk with her husband, three adult kids and three step-kids, happily playing with clay.