Speaker Spotlight: Seán Pádraig O'Donoghue
Follow Us!Share this!
Seán Pádraig O'Donoghue is a poet, herbalist, and witch living in western Maine in the shadow of a chain of mountains that stretches south to Georgia and north and east across the sea to Ireland and Scotland. Prior to becoming an herbalist, Seán was a political organizer in movements for peace, human rights, and global economic justice, and a freelance journalist documenting the human and ecological impacts of U.S. policies in Latin America. He grew up near Boston, a short distance from where his great-grandparents first landed when they arrived from Ireland, and just on the other side of the woods home of a maternal ancestor executed in the Salem Witch Trials. http://www.otherworldwell.com

This year he will be teaching Hawthorn Medicine and Magic, Rewilding Masculinity, and Somatic Prayer .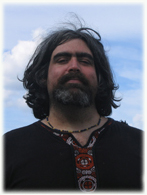 2010
The Breath of Life: Herbs and the Respiratory System
Traditions of the New England Root Doctors