Speaker Spotlight: Raven Kaldera
Follow Us!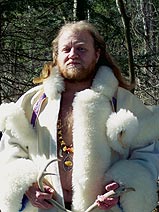 Raven Kaldera is a Northern Tradition shaman, intersex/transgender FTM activist, erotica educator, Ordeal Master, Speaker for the Transgendered Dead, homesteader, diviner, psychic vampire, herbalist, polyamorous parent, and author of many, many books, articles, and short stories. Raven is a builder of bridges between worlds, a crosser of boundaries between communities, a Reweaver of the Web. He is the Dreamer Whose Dreams Come True. 'Tis an ill wind that blows no minds. www.ravenkaldera.org/
(to see what he's done in previous years, click here, and you can buy several of these workshops as MP3s on our Shop page)
2020
This year Raven will be talking about Holda: A Domestic Goddess for This Time of Lockdown
2019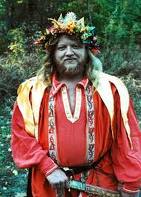 Lessons form the Kingdom of Freaks and Monsters Real Diversity in Pagan Groups, Shiva Aghora Eating with Lepers and Untouchables, The The Language of Omens: Connecting with Gods When You Can't Hear Them
2018
(UPG) Personal Gnosis: Judging the Spiritual Experience
2017
The Eightfold Path of Altered States, Transgendered Spirituality, Mythical Pathworking with Astrology
2016
Consent-Focused Ritual, Six Ways of Being Pagan, Trusting Divination
2015
Voice And Runes In Northern Healing Magic
2014
The Eightfold Path of Altered States, Psychic Vampires, Shamanic Astrology
2012
Nine Sisters: Gods and Goddesses of the Northern Seas
Sacred Meat And Leather: Being A Spiritual Omnivore
Talking To The Spirits: Getting Better Signal Clarity
2011
Elemental Herbal Energetics
Gifts for the Divine: The Art Of Making Offerings
Independent Pagan Publishing
Nine Maidens: Healing Goddesses of the North
Personal Gnosis: Judging the Spiritual Experience
2010
Dealing With Deities: The Many Pagan Experiences of God(s)
Elemental Herbal Energetics
Northern Tradition Herbalism
Northern Tradition Shamanism
Share this!