Speaker Spotlight: Raven Kaldera
Follow Us!Share this!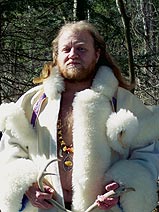 Raven Kaldera will be returning to Changing Times-Changing Worlds this year! We'll be posting a list of the classes he'll be presenting this year soon.
Raven Kaldera is a Northern Tradition shaman, intersex/transgender FTM activist, erotica educator, Ordeal Master, Speaker for the Transgendered Dead, homesteader, diviner, psychic vampire, herbalist, polyamorous parent, and author of many, many books, articles, and short stories. Raven is a builder of bridges between worlds, a crosser of boundaries between communities, a Reweaver of the Web. He is the Dreamer Whose Dreams Come True. 'Tis an ill wind that blows no minds. www.ravenkaldera.org/.
(to see what he's done in previous years, click here, and you can buy several of these workshops as MP3s on our Shop page)