Speaker Spotlight: Maryalyce Merrit
Follow Us!
"She changes everything she touches and everything she touches changes"
Maryalyce is a mainstay of the CTCW conference. For several years she has taught Reiki II and III, but this year we've asked her to pass on that so she can show some of her other skills. This year her classes will be Angel Allies, Rock my World! (crystals), Good Vibrations (sound healing), and Tea Therapy. (Do follow the links to find out more about those.)
Besides that she's also running the Healing Room, where folks can go to give and receive healing, or just get away from all that's going on and absorb (digest?) everything they've taken in so far. She's also brought her stock from her healing center: Akasha's Journey where you'll be able to buy crystals, divination tools like pendulums or rune sets, get an aura ph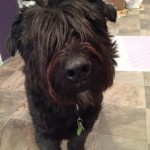 oto taken, or get a "fuzz therapy" fix. Maryalyce travels with Bear, her service dog, a rescue Bouvier des Flandres, a really charming boy although sometimes shy. Maryalyce is an advocate for both healing animals and helping rescue those who need homes.
Maryalyce (aka Akasha's Heart on facebook) has been practicing witchcraft and the magickal arts since 1994.  She is an ordained minister, priestess, ritualist, writer, teacher, and healer.  She is a member of the Hands On Trade Association, is a Reiki Master Instructor and Practitioner, Advanced Level IET Practitioner, Run Valdr Instructor and Practitioner, and teacher of such things like reading Tarot and Medicine Cards, Introduction to Wicca, Introduction to Witchcraft, Witch-Crafting (making magickal tools), How to Organize/Construct/Lead Rituals, and others.  With her passion for just about all things esoteric, metaphysical, astrological, and deeply spiritual, she decided to follow her soul's journey to feed, educate, and empower the world community.  This may be in the form of oracle readings for seekers, healing sessions, healing circles, or Reiki instruction among others.  As a dog lover, she extends this healing to not only dogs, but other animals and familiars as well.  Maryalyce is an ABCDT Certified Dog Trainer, and she and her rescued dog, Bear, are a registered Delta Society Pet Partner therapy team.  Akasha's Journey has evolved from the same passion for magickal living and
crafting tools and items for people and their pets to assist them on their own journeys.  Part of Maryalyce's dream is to make healing & learning how to heal accessible to the community and the people who truly desire it, and of course, the beautiful animals who cannot ask for it themselves.
Come visit me and begin your transformation.  The joy is in the journey.  www.akashasjourney.com
Previous years
2010, 2011, 2012, 2013, and 2014
Reiki II, Reiki III, as well as Open Healing/ Healing Practice sessions
as well as Advanced Masters Workshop 2011
Share this!