Sidney Eileen on Speaking Truth of the Dead
Follow Us!Share this!
Our speaker on CTCW's Otherworldly show this week is Sidney Eileen of The Balancing Path on Patheos Pagan.
We will be talking about speaking ill of the dead while still respecting the grieving process, and the importance of accountability for healing, growth, and creating social change. How the concept of "don't speak ill of the dead" is typically utilized is fraught with dismissal and erasure. Every time someone problematic dies, it is nearly inevitable to hear statements of "don't speak ill of the dead," but who does that idea serve? What benefit does it have? Certainly, if we want to learn from the past and honor those who have been harmed by people now deceased, we must speak honestly of the dead, even if being honest means speaking ill.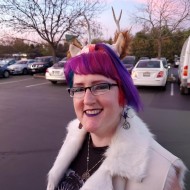 Sidney Eileen is a nonbinary, transgender, asexual, animistic, polytheist witch, and an artist, blogger, writer, and teacher. They acknowledge divinity and unique natures in not just deities, but in all manner of ephemeral and supernatural beings, spirits, living beings, and the souls that embody the physical objects and spaces around us. Their practice is lifelong and of an intuitive nature, seeking fulfillment through mutable asymmetrical balance. Their perspective as a witch and an artist influences everything they do.

You can find Sidney Eileen at: http://sidneyeileen.com/blog/
The Balancing Path on Patheos Pagan https://www.patheos.com/blogs/thebalancingpath/
Facebook https://www.facebook.com/bySidneyEileen
Twitter https://twitter.com/Sidney_Eileen
The Changing Times-Changing Worlds Conference will be held virtually, but live in 2021 on Zoom, November 8-14. Evening classes and panels Monday through Friday, and all day long on the weekends with breakout rooms.
Remember to tell your friends about CTCW, as word of mouth is our best advertising. We're all psychic, pretending we aren't is like wearing blinders or tying one hand down.
Facebook Group: https://www.facebook.com/groups/388982351233282/
A reminder that we are recording this and will post it on Youtube in a day or so, so if you don't want your picture out there, turn off your camera, and use the chat to ask questions silently!
Also please remember to mute your mics when you aren't speaking so we don't hear your kids and dogs, and roommates when you aren't speaking, but we do want your input.