Follow Us!Share this!
Ethically Approaching Baneful Magic
Presenter: Sidney Eileen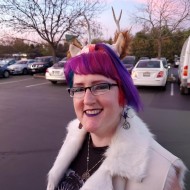 Baneful magic is a very hotly debated subject in witchcraft. Ethics and morality get mentioned a great deal, usually with all parties admitting that ethics are a critical aspect to determining whether or not baneful magic should be used. However, there is also usually little or no clarification about what that means, or how to personally evaluate the ethics of potential baneful workings. Join me as we weigh the often debatable, cultural, and personal nature of magical morality and ethics alongside some common motivations for doing baneful magic. We will examine common attitudes towards and frameworks for the ethics of baneful magic, being mindful of both the strengths and weaknesses of each. After that we will discuss some ways to approach finding and using your personal moral compass, so that you can decide for yourself how you want to approach baneful magic, or if you want to do it at all.
---