Raven Kaldera Spiritual Homesteading
Follow Us!Share this!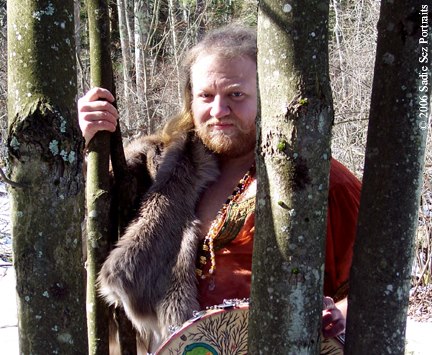 Raven Kaldera is a shaman, author, and activist. For many of us pagans who relate to the Earth as a living being as well as environment, he's 'living the dream', having bought acres of land on which he farms and raises animals, as well as running classes and religious rituals. He'll be talk Pagan Homesteading- spiritual agricultural practice, some of which you can read about in his book: EarthBound: Pagan Homesteading. "And I won't be glamorizing it."  We'll be talking dirt, and blood, and hard work, and about really getting to know the cycle of life.
Raven Kaldera is a shaman, a farmer, a musician, master of many arts and crafts, an activist in alternative sexuality, and historian (we first met in the SCA), so trying to peg him down to any one area is hard. He calls his tradition Northern Tradition so that modern neo-heathens don't get surprised when his ways differ from modern Asatru. Learn more at his website: https://ravenkaldera.org/
Other of his books include: Talking to the Spirits: Personal Gnosis in Pagan Religion, Dealing With Deities: Practical Polytheistic Theology, Pagan Astrology, Moon Phase Astrology, The Northern Shamanic Herbal, The Ethical Psychic Vampire, The Pathwalker's Guide to the Nine Worlds, Urban Primitive. these can be found at https://ravenkaldera.org/published-books/
Join Zoom Meeting
https://us02web.zoom.us/j/89872263549?pwd=WWxSdUl4Z0hPWUJwUmhkd3BTVzlIZz09
Meeting ID: 898 7226 3549
Passcode: 534314
Remember to tell your friends about CTCW, as word of mouth is our best advertising. We're all psychic, pretending we aren't is like wearing blinders or tying one hand down.


The Changing Times-Changing Worlds Conference will be held virtually, but live in 2021 on Zoom, November 8-14. Evening classes and panels Monday through Friday, and all day long on the weekends with breakout rooms.
Facebook Group:
https://www.facebook.com/groups/388982351233282/
On Facebook the CTCW Group has become private to facilitate open discussions:
We make announcements on the CTCW Facebook Page which is public.
Earthbound: Pagan Homesteading link:
https://www.asphodelpress.com/index.php?q=book.html&title=earthbound-pagan-homesteading