Raven Kaldera on Plant Spirits the New Normal Wednesday
Follow Us!Share this!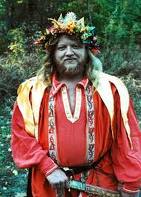 Raven Kaldera is a Northern Tradition shaman, homesteader, diviner, psychic vampire, herbalist, intersex/ transgender activist, Ordeal Master, Speaker for the Transgendered Dead, polyamorous parent, and author of many, many books, articles, and short stories. Raven is a builder of bridges between worlds, a crosser of boundaries between communities, a Reweaver of the Web. He is the Dreamer Whose Dreams Come True. "'Tis an ill wind that blows no minds."
Raven and Tchipakkan will be talking about the plant spirits, communicating with them, and how this can really help when you are trying to work with plants for healing and magick. There will also be some fun stories- like when Raven was given a hard time by a vegetable. The pagan community is often eager to talk about working with animal spirits, but plant spirits are there, and incredibly eager to work with and help us.
IF you couldn't listen live the show is archived here: http://www.blogtalkradio.com/liveparanormal/2016/10/27/the-new-normal-radio-on-liveparanormalcom listen when you are able.
Have you worked with plant spirits in your practice? Would you like to? Please call in with any stories or questions: 619-639-4606
To listen live: open a window on your computer to www.Liveparanormal.com, sign in, and click on Shows, and the New Normal to listen. To listen later at your convenience, shows are archived by date on LiveParanormal.com here, and they're organized by date, topic and guest on Tchipakkan.com .
Save
Save
Save