Professional Intuitive Reading with Corbie Mitleid
This week on CTCW's Otherworldly, our guest is the Reverend Corbie Mitleid speaking about Professional Intuitive Reading.
Corbie is a Certified Professional Tarot Master and Psychic, trained medium and ordained minister. She speaks at holistic expos, and seminars, as well as individual sessions with clients worldwide. Check out her website: https://corbiemitleid.com/ There you can learn about Tarot and Oracle cards, and other forms of Divination, Spiritual Guides, Past Lives, and she even coaches New Age Business Brainstorming.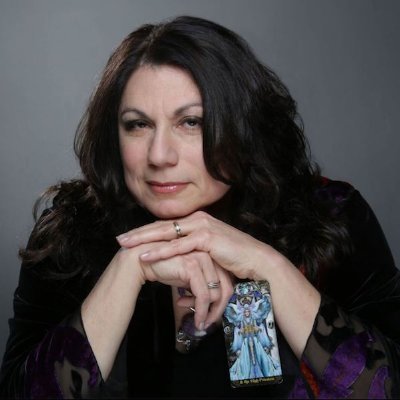 Corbie is known as one of the top psychics in America and makes her living helping people make their lives better by sharing information obtained intuitively. But being psychic isn't enough, she's going to share the nuts and bolts of how to be a good professional intuitive (and by professional we mean that 'you read for lots of people you don't know', not "you make money at it.")
Each of us has unique psychic talents, so of course she'll be sharing how she uses hers. Beyond natural abilities, there are skills she has honed through years of reading for thousands of people.
I'll be asking her about things from how to know what they need to know immediately to help with their current problems, to how to present information so that the person is able to accept it (because often the answer is right there, but there's something blocking them from accepting the knowledge.) I expect we'll hear about how she learned some of these techniques, and she may share how she got into the business of using her psychic abilities to make a living as well helping people.
Soothsayers have helped people for as long as we have written records, because often the answers are not available without spiritual means. Dowsers find things. Mediums can relate messages from loved one who've moved on. Readers use various systems to get useful information and hints from extra-normal sources and spur psychic intuition.
Corbie has helped people whose difficulties in this life are carried over from previous lives, and when she shares those stories, suddenly the "irrational" behavior suddenly makes sense and can be dealt with.
I expect many in our audience are psychics who help clients and friends, and may have questions about how to work some of her techniques into their own practice (when similar talents can be practiced). When you have a psychic flash about someone, how do you know whether it's something you should pass on to them? How can you avoid giving them excuses for continuing self harming behaviors, and instead empower them to find their best lives?
There's a huge difference between the sort of psychic reading presented in movies and books (as fun as they are to watch), and the sort that has Corbie's clients coming back for repeated visits. Whether your talents are artistic, logical, musical, athletic or psychic, why let them lie unused when you can use them? The bottom line is not making money from our talents, it's helping each other, so the world is a better place for each of us, and each of us makes the world better.
Join Zoom Meeting
https://us02web.zoom.us/j/85601649219?pwd=d1MwVmtQVDJnTlppdFFSSmlLVjhRUT09
Meeting ID: 856 0164 9219
Passcode: 698107

Check out Corbie's books You've Got the Magic, Who needs a Genie?, The Psychic Yellow Brick Road, Clean out your Life Closet and also Your Soul's Plan and Your Soul's Gift. Corbie's Website is:
Remember to tell your friends about CTCW, as word of mouth is our best advertising. We're all psychic, pretending we aren't is like wearing blinders or tying one hand down.
The Changing Times-Changing Worlds Conference will be held virtually, but live in 2021 on Zoom, November 8-14. Evening classes and panels Monday through Friday, and all day long on the weekends with breakout rooms.
Facebook Group:
https://www.facebook.com/groups/388982351233282/

On Facebook the CTCW Group has become private to facilitate open discussions:
We make announcements on the CTCW Facebook Page which is public.

Please join us there. If you miss this event, the recordings are posted on Youtube Thursday or Friday