Pet Psychics and Psychic Pets
Follow Us!Share this!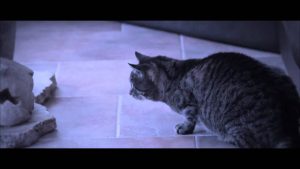 Please join Tchipakkan on the New Normal 8 pm Wednesday, April 5, 2017, 8-9 p.m. edt.
If you missed the live show, it's archived here.
Pets are close companions; they can even feel like part of the family. And sometimes their behavior is "inexplicable". Does your cat chase "poultermice"? That's what we call it when they seem to be chasing something, but we can't see it. (It could be pixies I suppose…)
We'll be talking about the things we've seen, or heard about (personal stories are the best, of course), such as the cat funeral a friend observed. Many people have seen ghosts of their pets, and many pets seem to be more sensitive to ghosts than humans.
There are also animal "whisperers" who seem to be able to communicate with our non-human companions, and even pet mediums (although we'll probably also talk about how to spot a scam in case you are thinking of hiring one).
Want to catch this interview, call in with questions or be part of the live chat happening during every show? The Call in Number is 619-639-4606
If you just want to listen (while doing other stuff on your computer), you can open a window on your computer to www.Liveparanormal.com, click the "Listen Live and Chat" listing under the "radio-listen/chat room" heading, and click "LISTEN HERE" next to "the New Normal".
If you want to chat, you'll need to go to the top of the home page on the extreme right and click "Join" to set up a personal account (it's free but takes a few moments, so you might want to do this in advance) You can ask –Name- questions in the chatroom, or
We'd love you to phone in with questions: 619-639-4606 (live only). If you know you're going to listen later but have a question, look on the facebook events page and leave a question there. We'll try to answer it during the show.
If you can't tune in 8-9, Live Paranormal.com archives its shows by date, and I archive them by date, guest, and topic on my website: http://tchipakkan.wordpress.com/the-new-normal/directory-of-podcasts/
Hope you can join and me tomorrow night from 8-9 at the New Normal on liveparanormal.com
Save