Pagan Community and Internet interaction on N.N. w/ Coyote Skywoman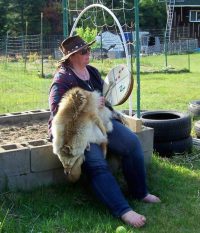 Follow Us!Share this!
The New Normal podcast is live 8-9 pm at www.Liveparanormal.com, Wednesday, April 20, 2016   Miss the live show? The podcast is archived here.
While the age of the Internet and social media has had many positive benefits, there has been a strong downside to the increased web connectivity. With a new generation of up and coming witches and pagans making their way into adulthood, now more than ever, there is a lack of diverse groups to support them. The few groups that have survived the technological transition see an increasing influx of people seeking to make an actual connection to each other and the divine. Join us as we explore the changes over the last twenty years as the web online has all but supplanted the process of traditional web weaving.
Join Tchipakkan and her guest Coyote Skywoman as we talk about the benefits and difficulties that come along with this new technology as we embrace ancient religions.
Please call in with any stories or questions: 619-639-4606
Coyote Skywoman has been a member of the Pagan community in Massachusetts and New Hampshire for the last 25 years, and she has been a practicing shaman for only a little bit longer than that. She works closely with the trickster spirit, Coyote, and has worked with The Sagefire Fellowship and A Sacred Place since their inceptions.
Tchipakkan has been openly pagan for more than 45 years, and has observed many communities in New England and on the East Coast, a lot via internet.
To listen live: open a window on your computer to www.Liveparanormal.com, sign in, and click on Shows, and the New Normal to listen. To listen later at your convenience, shows are archived by date on LiveParanormal.com here, and they're organized by date, topic and guest on Tchipakkan.com .