Oracle Cards with Sophia Shultz on the New Normal
Please join Tchipakkan and her guest Sophia Shultz, on the New Normal 8 pm Wednesday, September 27, 2017, 8-9 p.m. edt.
Please join Tchipakkan and her guest Sophia Shultz, on the New Normal Wednesday on www.LiveParanormal.com
Born and raised in suburban Philadelphia, Sophia Kelly Shultz has been working professionally as an artist for 29 years, at first specializing in "fantasy" portraits in which customers could order portraits as, for example, centaurs or fairies, etc.–and more recently in the spiritual and mythological paintings for which she is now widely known.
In 2013 she released the Stone Circle Oracle, and this year produced the Promethean Oracle. Each of the cards in either deck is a small version of one of her beautiful paintings, with deeply meaningful images, which will allow you access to the psychic insight that open you to hidden wisdom. The Promethean Oracle taps into the wisdom of many mythologies and cultures.
Many people assume that all "fortune telling" cards are a variation on Tarot, but there are many other ways to tap into our subconscious- or that of the Divine.
See more of her work here: https://badgersoph.deviantart.com/
We'd love you to phone in with questions: 619-639-4606 (live only). If you know you're going to listen later but have a question, leave a question on the fb  event page (or email me), and we'll try to answer it during the show.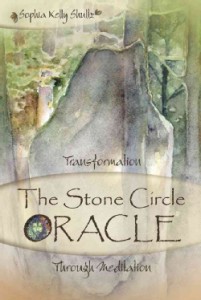 If you can't tune in 8-9 pm eastern, Live Paranormal.com archives its shows by date, and I archive them by date, guest, and topic on my website: http://tchipakkan.wordpress.com/the-new-normal/directory-of-podcasts/
Hope you can join Sophia and me tomorrow night from 8-9 at the New Normal on liveparanormal.com
Save