Norse Folk Magick with Jane Sibley
Follow Us!Share this!
On the CTCW Wednesday Show June 17, 2020 8-9 PM EST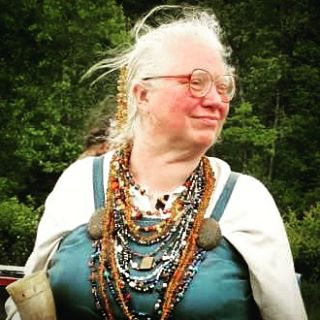 Jane Sibley is an author and CTCW (co-founder) and speaker who is an expert on Runes and many other ancient Norse Magickal practices. Tchipakkan and Jane started CTCW as a way of making the mysterious and seemingly fantastical practices termed supernatural, paranormal and metaphysical as practical as other disciplines (like medicine or meteorology).
do something than to know how it works. Tchipakkan and Jane will be talking about various ancient practices from Scandinavian history and folklore, ranging from healing to divination. Many are useful now, and we may mention a few that aren't, but are fun to talk about.
The CTCW Wednesday Show will take place on the ZOOM platform every Wednesday at 8 from now until the Conference, get a taste of the speakers and subjects we have at the con, including, if you're there during the live show, being able to ask questions! Later it'll be up on you-tube. Let your friends who are interested in this sort of thing know about both the show and the conference!
Jun 17, 2020 08:00 PM
Jun 24, 2020 08:00 PM
Jul 1, 2020 08:00 PM
Jul 8, 2020 08:00 PM
Jul 15, 2020 08:00 PM
Jul 22, 2020 08:00 PM
Jul 29, 2020 08:00 PM
Aug 5, 2020 08:00 PM
Aug 12, 2020 08:00 PM
Aug 19, 2020 08:00 PM
Aug 26, 2020 08:00 PM
Sep 2, 2020 08:00 PM
Sep 9, 2020 08:00 PM
Sep 16, 2020 08:00 PM
Sep 23, 2020 08:00 PM
Sep 30, 2020 08:00 PM
Oct 7, 2020 08:00 PM
Oct 14, 2020 08:00 PM
Oct 21, 2020 08:00 PM
Oct 28, 2020 08:00 PM
Nov 4, 2020 08:00 PM
Please download and import the following iCalendar (.ics) files to your calendar system.
Weekly: https://us02web.zoom.us/meeting/tZUodemtpzwvEtLjZp98mHNqToE6d0sDRBMr/ics?icsToken=98tyKuGpqzkqH92StRGBRpwcGYjoc-_xmGZYj7dxliX1WnheSi3nAu1nZLYvA_zi
Join Zoom Meeting
https://us02web.zoom.us/j/81520597586?pwd=WFloajNPb1JCaG9KNGd6dWw0NzhkQT09
Meeting ID: 815 2059 7586
Password: 438610
One tap mobile
+13126266799,,81520597586#,,,,0#,,438610# US (Chicago)
+19292056099,,81520597586#,,,,0#,,438610# US (New York)
Dial by your location
+1 312 626 6799 US (Chicago)
+1 929 205 6099 US (New York)
+1 301 715 8592 US (Germantown)
+1 346 248 7799 US (Houston)
+1 669 900 6833 US (San Jose)
+1 253 215 8782 US (Tacoma)

Find your local number: https://us02web.zoom.us/u/kbE4OiTE6