Making space for new growth
Follow Us!
"I love my pagan friends, they worship the ground I walk on" – a bumpersticker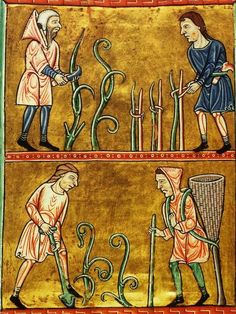 Neo-Pagans are very big on loving the earth, relating to plants and animals, being in tune with the seasons. A problem with this is that most neo-pagans are urban raised, and while for most of human history more than 95% of the population lived on the land and grew or gathered their own food. Historically, pagans did live on the land, which is why the terms pagan and heathen both mean "country dweller". It's harder to convince people who work with the weather and miracles of growth and life 24/365 that the spirits of the land aren't real. This separates the wisdom of farmers and herdsmen a few generations from most of us.
As we explore the Harvest theme this year, we are exploring the wisdom of those who were and are in touch with working with the land to produce what we need. We try to reconnect with some of the wisdom that thousands of years of farm practice taught our ancestors, and often it still works even for us folk who live in our electrified apartment-caves.
A solid piece of wisdom we can all use is that you need to make space for new growth. We need to prepare the environment to nourish whatever it is we want to grow, then when it's growing, we must keep other things from crowding out, and stealing the resources from our 'crops'. It's not that the 'weeds' don't have a right to live, it's just that we are nourishing and protecting our chosen plants or projects. Spring is a popular time of year to clean house, to get rid of stuff that no longer serves you, and to examine things we do that may also not be appropriate, but we do from habit. These things need to be cut off, be passed on, be "composted". You don't have to throw out the things you don't use anymore, but you can pass them along, donate them to those who can use them. Making a space in your life will attract new things in, as "nature abhors a vacuum". You remember the adage that when a cup is full, you can't add more. We must empty enough space for the new growth. Keep your goal in your mind, and even as the plant grows, prune off that which doesn't match that image.
Another gardening analogy is thinning. It's hard for people who are just starting to plant three seeds for each plant they want, and pull out all but the strongest, but that's what we need to do. (Sometimes we can replant a strong seedling and keep it.) But both in the starter flats and in the beds, we must give the plants we wish to grow the room they need. You can't raise three animals on the food that one needs, and you can't raise three plants in the space one needs. Neither can you succeed at any project if you don't give it the time, energy and attention it needs because you are trying to do more things at once than you have time and energy for. (Trust me on this one, I've tried! It doesn't work.)
Next year you can plant something else. If you are putting in trees, or bushes or perennials, gradually they won't need as much time and energy, which is why a long-term plan is useful. Again, you may not be growing your own food, but these concepts do apply to other aspects of our lives.
Share this!