Magickal World of the Vikings
Follow Us!Share this!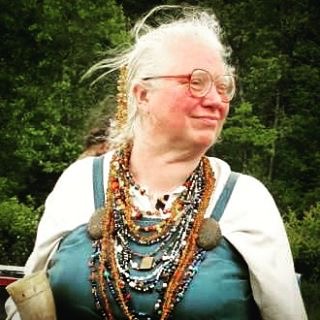 Please join CTCW's Otherworldly on Zoom this Wednesday, March 9th at 8 PM Eastern Time, when our guest will be Jane Sibley.
Jane Sibley will be focusing on the supernaturals, both the divinities but also the terrestrial beings such as the alfar/nisse, norns, etc., and also the feared ones such as the walking dead. She'll cover what was done to protect against the latter, and how to get in good with the former. And yes, there are remnants of the old Pagan ways still to be seen today.
Please join us, and bring your questions.
Join Zoom Meeting
https://us02web.zoom.us/j/87168461877?pwd=TEZXVldyODN4RVE5RlNsbCtVUnNFZz09
Meeting ID: 871 6846 1877
Passcode: 092517

Jane Sibley is one of the founders of the Changing Times-Changing Worlds conference, a scholar of Runes, and other divination forms, and other magic and folklore of the early Scandinavians. She is the author of The Divine Thunderbolt, The Way of the Wise, The Hammer of the Smith, and Norse Mythology According to Uncle Einar. Several of her workshops from previous conferences are available for download in the CTCW shop.
Remember to tell your friends about CTCW, as word of mouth is our best advertising. We're all psychic, pretending we aren't is like wearing blinders or tying one hand down. On the other hand, we all have different talents, and being psychic doesn't mean we are all constantly telepathic and know the future, that's Hollywood movie stuff. So tell your friends!

The 2022 Changing Times-Changing Worlds Conference will be held Virtually again next November 7-13th, evenings Monday-Friday, and all day Saturday and Sunday. Registration will be open soon, with options to join workshops and panels live, and access the recordings for a month, or a whole year. Let us know who you'd like to present, and what topics you'd like to hear about. Meanwhile, every Wednesday, there's Otherworldly.
Facebook Group: https://www.facebook.com/groups/388982351233282/
On Facebook the CTCW Group has become private to facilitate open discussions:
We make announcements on the CTCW Facebook Page which is public.


Please join us for Otherworldly every Wednesday evening. If you miss the live show, the recordings are posted on Youtube Thursday or Friday.