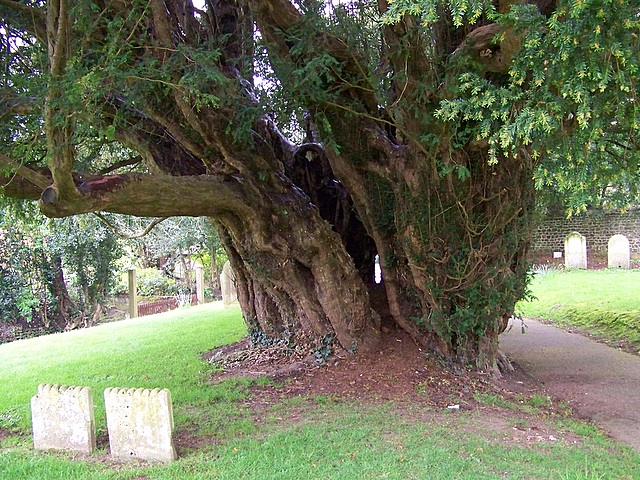 This is a great picture that shows part of the way that yew trees came to be considered signs of Life/ Death/ and Rebirth (why they are often found in graveyards). If you cut them down, they regrow from the roots, as the tree ages, the original tree may actually die, but the offshoots grow up around where the original was, creating a reborn tree- often with a hollow central core.
I recently tripped over a short book: The Significance of the Ancient Yew Tree & Historical Pagan Sites: Detailing the History of the Pagan Worship Tree. It's not much more than a pamphlet, but contains some interesting trivia, lovely images, and a list of famous yew trees to visit (in England), and a chart to figure out how old they are. Due to the regeneration bit, some are reputed to be six thousand years old or more!

This reminds me of a workshop (I think by Gretchen Schork) who had sliced a log into quarters, and covered with symbols she'd carved into each for the four quadrants. It represented the World Tree, and when each quarter was carried outside the ring of chairs, suddenly we were INSIDE the World Tree! You could really feel it. No wand waving, no walking, no visualization, nothing else needed. The magick was in the created magickal worked wood (and the energy and symbols she'd spent months carving). This is what magick crafters can do, and we can share with each other.