Listen to Our Speakers on the New Normal
Follow Us!Share this!
Wednesday night, September 16th, on the New Normal Radio you can listen to Starwolf  who will be teaching Protective Energy work with Turnsteel at CTCW. This workshop is essentially a real-world "Defense against the Dark Arts". "Because sometimes shit happens, and who're you gonna call?"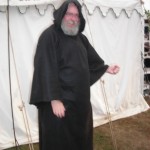 As a shaman, Witch, professional psychic, Reiki Master and metaphysical engineer and soldier of fortune, Starwolf brings a broad range of knowledge and experience to the fields of magick, metaphysics and spirituality. His practical approach to adapting traditional metaphysical elements to modern lifestyles pulls magick into the twenty-first century.  You can find him and his wife Catherine online as Foresight (the Information you need for the Adventure of Life) at  www.ForesightYourPsychic.com or www.ForesightYourCtPsychic.wordpress.com
Turnsteel (not available Wednesday) is a practicing rootworker and sorcerer trained in southern hoodoo and modern sorcery. His workshops focus on combining practical spellwork with real world action to help achieve your aims. Trained in traditional hoodoo, folk magic, and drawing on techniques from around the world, Turnsteel is a reader and rootworker who specializes in making real world changes through the fusion of skillfully applied sorcery and practical mundane effort.