Follow Us!
December 6 is the feast of Saint Nicholas, a Christian saint associated with sailors, children, and giving, tradition suggests that he brings gifts to good children on the eve of his feast day. As he is supposed to be good, he is often accompanied by another magical being who punishes, while he rewards. In recent years the tradition of Krampus has been gaining popularity. He is one of Santa's helpers from central Europe, where Krampus- a hairy monster(s) with horns, wearing belts of chains and bells, armed with switches and whips, and bags in which to carry away naughty boys and girls, often accompany the saint in parades and other pageants. Nicholas has various helpers in that role around the world, in the Netherlands, he is said to come from Spain, so his helper was a moor, known as Svart Piet (Black Peter), who was depicted in blackface because moors were hard to come by in Holland, but that tradition has fallen into disrepute as world travel is more common.
Once on shore, he rides a white horse. In Switzerland and Luxembourg, his helper(s), Schmutzli , wears a monks habit. In Poland he is accompanied by both an angel and Knecht Ruprecht. In France, the saint rides a donkey, and is accompanied by Père Fouettard, the butcher who killed 3 boys and chopped them up, and Nicholas brought them back to life. Belsnickel (from belzen, German for to wallop or to drub) was more of a combination of both the carrot and the stick- he is one of the older versions of the nocturnal visitor, going back to the Middle Ages. He was portrayed as thin, wearing black, often fur, and carrying a switch (but with treats in his pocket). Most of these characters were disguised with masks or face paint- probably as they were family or neighbors dressed up to fool the kids (and delight the adults). My favorite version of this was when the visiting St. Nicholas (having been prompted by parents) was able to tell each child of some misdemeanor that they thought no one knew about. ("He knows if you've been bad or good!")
I first heard of Krampus about ten years ago in the Krampus Christmas. I was instantly enchanted and prowled the internet and youtube enjoying  videos about Krampus runs, and how craftsmen carve the wooden masks, fit in animal horns, and make the hairy costumes. Apparently so have others because Krampus figures have gained in popularity since then, including a Krampus movie, Krampus tree ornaments, and Krampus nights in America. There are many versions of processions during this time of year where drinks or treats are given the wanderers in exchange for their blessings (or entertainment). The most sedate version of this is singing carols or Wassailing, which combines both entertainment and blessing, and could often bring needed supplemental food or income to the poor.
A weird variant is the Mari Lwyd where the singers brought a hobby horse made with a horses skull on top of a pole with a sack covering the man carrying it; this is more likely to take place during the Christmas season rather than Advent (pre-Christmas). As with many "traditional customs", often we cannot find reference to them before the 17th century. The folks in the 1800s had a delight in studying and resurrecting (inventing) folk customs; and many cards both Christmas and Valentines, depicted Krampus and the horrors coming to naughty children!
The Yule season starts on December 6th as this is the day of the earliest sunset (4:11 in Boston, MA). After this date the sunsets start getting later. But, isn't the Solstice the shortest day? Yes. January 6th, the 12th day of Christmas, is the day of the latest sunrise (7:13 in Boston- if you go to Trondheim, Norway, the solstice day runs from 10:01 dawn to 2:31 sunset, yowch!). So from December 6-January 6 the days are short, but sunrise and sunset vary. This is probably the reason that this period is considered the prime time for the Wild Hunt and other spirits to visit earth.
T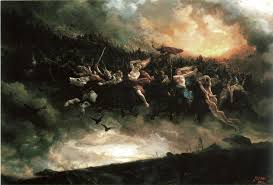 here are some who suggest that the Santa legends are associated with the Hunt, and thus that Odin (who leads it in some traditions) was a precursor to Santa. More likely are other early versions of the hunt that were lead by Diana, Holle, and Berchta (depending on region). The Good Ladies led their troop (of dead or souls of sleeping shaman) from house to house, eating and drinking offerings that were left for them, blessing well run households, and creating havoc in poorly run or inhospitable houses. These days tales suggest that Perchta will come during the 12 nights of Christmas and leave a coin for good children, and cut out the internal organs of bad ones and replace them with straw. She is often depicted with a mask and costume with one benevolent face, and one of an scary demonic woman showing both her pre-Christian fertility goddess aspect and her Christian make-over into a demon. When she leads the Wild Hunt it is said to be a troop of the souls of un-baptised children.
Blessings (and the occasional treat) was what one expected from these visitors. Gift giving is a recent development, from the time of the Roman Empire it was more associated with New Year's celebrations, later transferred to St. Basil's Day (January 1st). St. Nicholas brought treats like cookies and fruit (and the threat of punishment). I'll mention more supernatural visitors when the Yul Lads start arriving.
Share this!