Follow Us!Share this!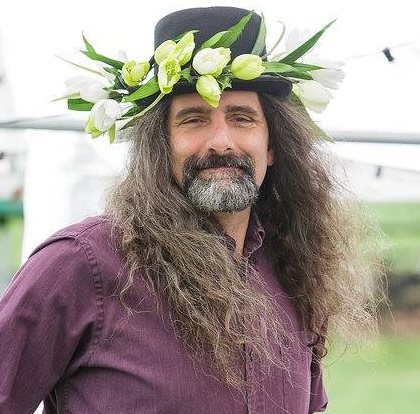 While we haven't picked which presentations he'll be doing yet, Kirk has confirmed that he'll be speaking at CTCW again this year.
Kirk White, M.A., L.Ac., is a healer, teacher and author. He has been a practicing Witch and Magician since 1973, a psychotherapist for 22 years, and a licensed oriental medical practitioner since 1994. A past co-president of Covenant of the Goddess (North America's oldest and largest association of Witches and Wiccans), and past director of the University of Vermont's Parapsychology Program, he also founded Cherry Hill Seminary, a professional Pagan ministry program with faculty and students worldwide, and Standing Stone Academy, a Pagan healer training program.
In 2006, Wildhunt.org named him one of the "25 most influential modern living Pagans today." In addition to working as a consultant with Pagan seminaries nationwide such as the Aquarian Tabernacle Churches' Woolston Steen Theological Seminary, he is a licensed acupuncturist/ Chinese herbalist, registered psychotherapist, legal Pagan minister, Freemason, and adept in the Hermetic Order of the Golden Dawn. His skills and interests include traditional healing modalities, various magickal and spiritual traditions, and models of Pagan leadership and ministry.

While waiting with eager anticipation for November, you can read his books Adept Circle Magick: a Guide for the Advanced Wiccan Practitioner,
Advanced Circle Magick: Essential Spells and Rituals for Every Season,
rEvolutions: The Elements of Mastery, Operative Freemasonry: A Manual for Restoring Light and Vitality to the Fraternity, and Masterful Magick: A Guide for Advanced Wiccan Practice.
Or you can listen to some previous workshops

Ritual Triage with Kirk White aka "How to Avoid the Ford Pinto Ritual" or Diagnostic Skills for Energy Healers – Kirk White.

Feel free to contact us if you want to suggest a topic you'd like him to address.