Follow Us!Share this!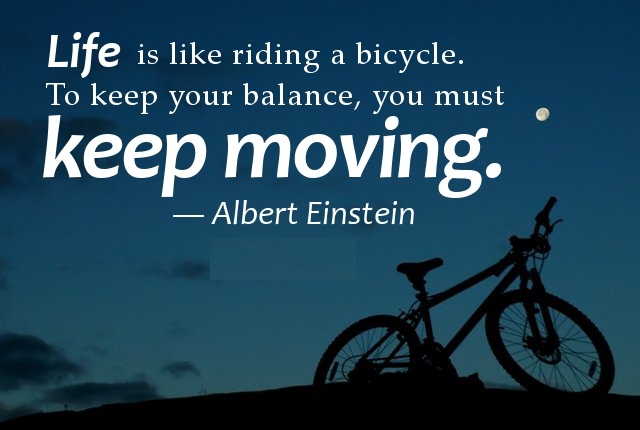 Recently I've been thinking about forward momentum, and how movement helps us. As I age, I often swing my arms or kick my legs to get that little bit of extra 'push' to get my body moving. I've learned that speeding up helps me maintain my direction, and that slowing down often means progress in whatever I'm doing slows to a stop.
I think most of us have experienced riding a bicycle or a motorcycle. If you stop, you have to put a foot, or kickstand down to keep upright. Keep moving and you can balance on what are two small points in contact with the road. It's scary when you're learning to ride, because you're afraid of hitting something; but once you get the hang of it, you realize that moving is what gives you the control, and allows you to stay upright almost effortlessly. I think about how force is mass in combination with acceleration, and how we are beings manifesting both of physical and energy bodies. Toss something gently and it lands softly, but even a small object will hurt if it comes in fast.
While much has been said about how our energy bodies continue after separating from our physical bodies, there may be a reason we manifest both physical and energetic working together, as mass and acceleration create force. Perhaps only when we are in the physical world are we able to make the impact, make changes on those around us the way we do. Clearly there's a reason we as beings of light so frequently choose to become one with physical reality. This combination may be what makes our personal spiritual growth possible. There's a reason that movement is often taken as a sign of life. We also experience changes in energy that happen when our bodies move.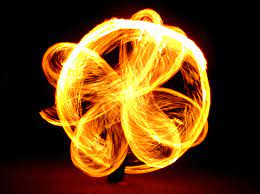 Similarly, when we change physical locations or perspectives, we experience shifts in our energy. We are energy beings in an incredibly varied energy environment, and we affect it as it affects us. As we negotiate the physical world, we are also interacting with the energetic worlds. Physical changes spiritual, spiritual changes physical.
Whether you are using movement to make a greater impact, (or to dodge away from a dangerous impact,) or to simply enjoy the joys of the interaction of body and movement, keeping moving and changing is how we grow. It defines being alive in many ways, whether it's fight or flight. The more I think about it, the deeper I seem to go into the many ways the various aspects interact (and that's without even getting into the mental vs. spiritual aspect!)