Follow Us!Share this!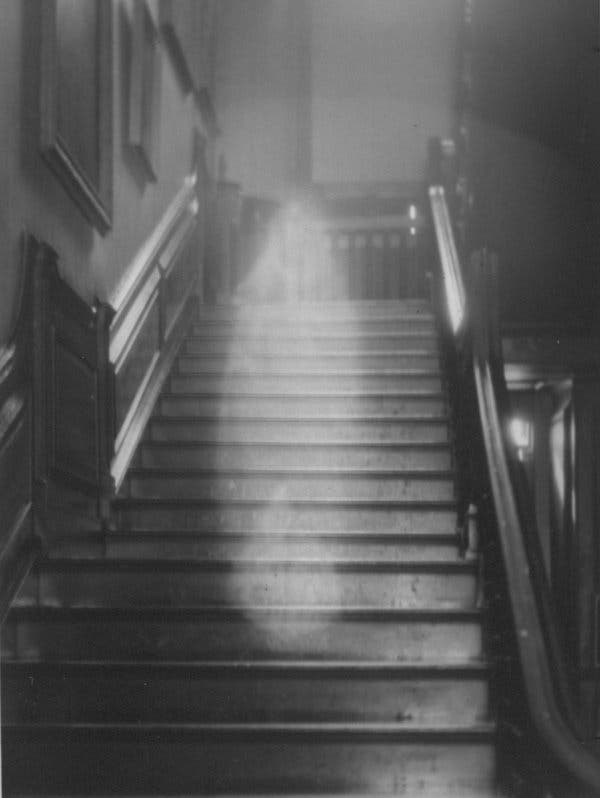 I have been collecting first person stories of ghosts for over 50 years, almost everyone has one, and probably 90% of people have told me "I've never told anyone else".
People don't want to be labeled a "nut", so they keep their experiences to themselves. Admittedly, it's easier when it's anonymous, but feel free to use a pseudonym, if you have an experience to share and still want to do it off camera. (Please tell your friends how to join us so they can share their stories!) I think you'll find that finally sharing what we experienced (saw, heard, felt, smelled…) allows us to finally relax, especially when others have experienced similar things.
The more information we share, the more we can postulate about the afterlife and those who've died and yet contacted us.

Many of us grew up in "haunted" houses, but simply accepted the noises, moving objects, presences because we'd grown up with it.
I'll try to warm you up with some tales from my experience, from the ghosts who couldn't see each other, to the smell of the cigar, to the ghost in the car. Yes, one of my friends has given a ride to the famous "phantom hitch hiker", but his version is a bit different than the one that usually goes around. Do call in, if you don't, I'm going to start getting scholarly and historical on you!
Join Zoom Meeting
https://us02web.zoom.us/j/85601649219…
Meeting ID: 856 0164 9219
Passcode: 698107
Remember to tell your friends about CTCW, as word of mouth is our best advertising.
We're all psychic, pretending we aren't is like wearing blinders or tying one hand down.
The Changing Times-Changing Worlds Conference will be held virtually, but live in 2021 on Zoom, November 8-14. Evening classes and panels Monday through Friday, and all day long on the weekends with breakout rooms.
Facebook Group:
https://www.facebook.com/groups/388982351233282/
On Facebook the CTCW Group has become private to facilitate open discussions:
We make announcements on the CTCW Facebook Page which is public.
Please join us on Zoom on Wednesdays, and on the FB group anytime.

If you miss this event, the recordings are posted on Youtube Thursday or Friday.