Follow Us!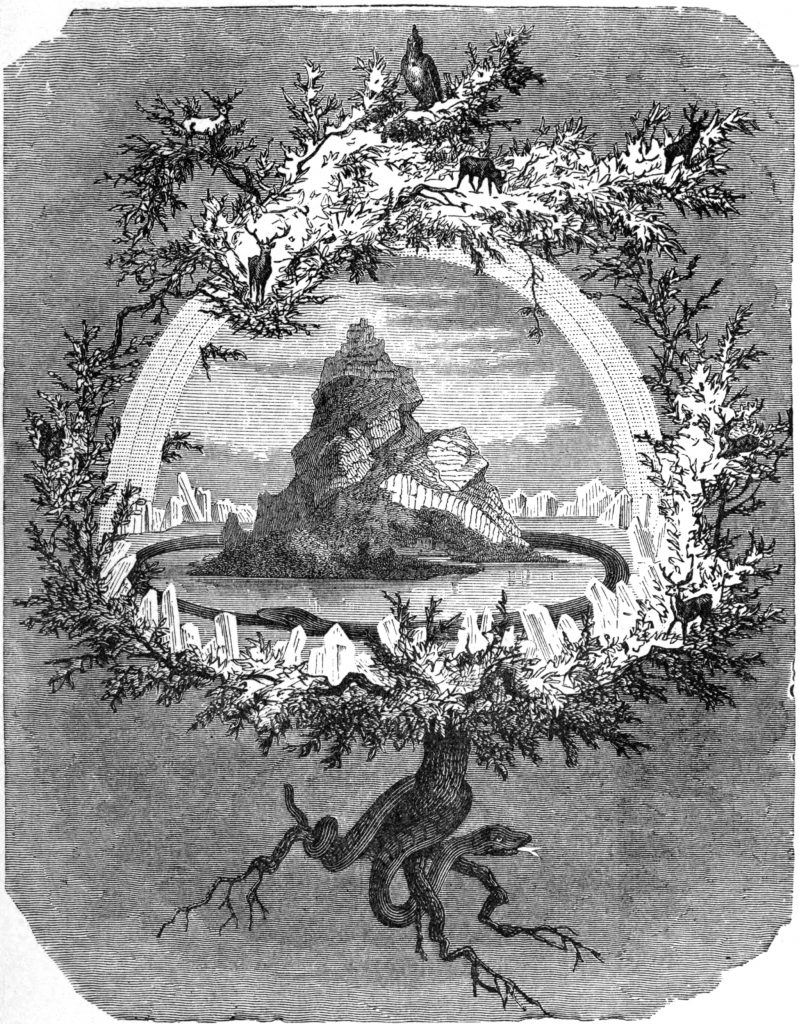 The Tree of Life is a great symbol for unity and diversity conjoined, the tree connecting the root to the branches reaching to the sky. Many faiths have used the symbolism of the tree for growth and connection, from the Kabbala to Hindu description of Lord Bramah as the roots, Lord Vishnu as the trunk, and Lord Shiva as the crown. The Norse depicted the Universe as the tree Yggdrasil, in or around which the nine worlds were situated. Nithgard was beneath one of the three roots that supported the tree, and Snorri described the constant peril of the tree being gnawed by the serpent Nithhogg, and the norns who spent time watering and healing the damage with clay from the Well of Fate. As an historian always remind myself and others that over the many years we've lost a lot of information about early mythology, but as a pagan, I remind myself that the multiverse and spirits in it are real, and we have to balance what we know from all sources, with what we experience for ourselves. The tree remains a marvelous symbol.


We must always nurture our roots to maintain the health of the whole, no matter what we are using the tree to symbolize. A serpent like Niđhogg represents those things which are hurting us, but which we can't see or reach. It is good to think of helpful spirits protecting us, and healing the damage we cannot, so that we can survive. While Snorri seems to have conflated the Norns with the Classical Fates of Greece and Rome (he was a 13th century scholar, even if he was trying to preserve the northern heritage), they are often described as being many, and including representatives of all the races. (That's my personal preferred interpretation, I'm sure there are many others.) Self centered as humans are, we tend to relate to the aspect of the Norns as those who determine each of our personal fates. But I like the references to them in which they are hardly differentiated between female ancestral and guardian spirits. Since when we experience them directly it's very hard to know which folkloric category to plug them into, the chances are good that our ancestors also had a bit of trouble doing the same. Each of us has to use symbols to understand our own experiences our own way. But we all need to come to terms with surviving stresses over which we have no control, no direct remedy.
As people living in 2022, we have had to negotiate living through the last two years of the pandemic. We don't want to get it, nor spread it to those around us, but we still have make a living, deal with family and friends and strangers, and all the mundane details of life, as well as our spiritual practice. Climate Change is becoming increasingly apparent, although any given moment may make problems like gas prices or medical problems more immediate. These stresses gnaw at the roots of our well-being, and we can only address most of them as a group or indirectly.
Life is a constant balance between growth and entropy, creation and destruction. Our human challenge is to survive the gnawing at our root- which is what makes it such a great symbol. We relate to that constant nibbling, the need for constant maintenance. Like jugglers trying to keep plates in the air, simple survival requires our constant attention. If you were hoping I'd end this with a solution to the problem, I cannot. I can simply direct your attention to another part of the symbol, that of the norns. These maidens- independent females, come from many worlds, nurture the roots to maintain the balance, and they are identified with many varieties of guardian spirits (fylgjas, hamingjas, disir, and valkyries). We can work with our ancestors, with our guardian spirits, within our fate. We can, like the norns, choose to maintain, to nurture and to heal, whether in our immediate circles, or the greater world; Climate Change, and social issues may be the damaged roots on which we need to work. I almost remember a line from a book I read as a child "No man can escape his wyrd, but no one can take from him the ability to face it with honour."
Share this!