Follow Us!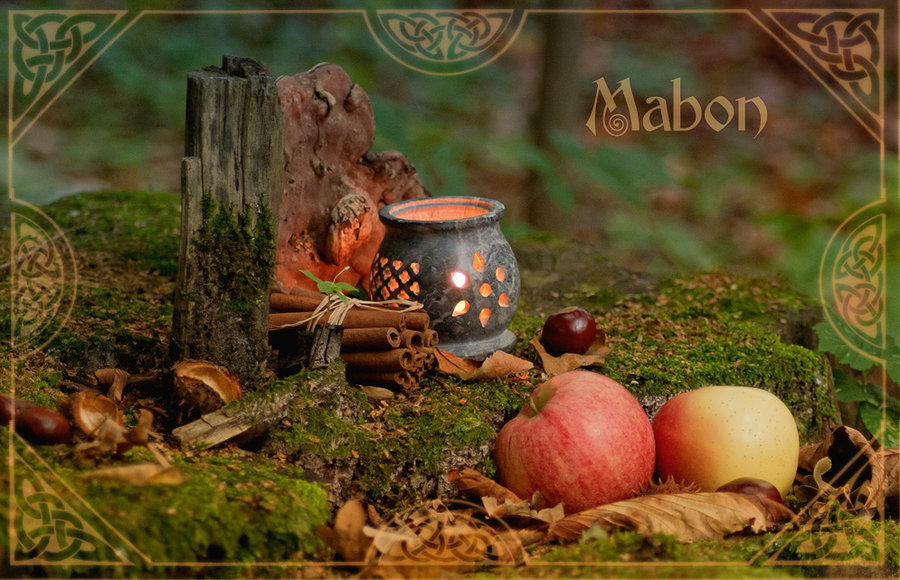 This year the Equinox fell on the 22nd, and the Full Harvest Moon on the 20th just before it, so it was a powerful time. The New Finders* Moon is coming up on October 6th, and I've always been surprised that people don't use the energy tides of the Dark moon more, since they are good for growing. Yes, you catch the surge of growth at the Full, but then it starts receding. If you want to grow something, start it at the New moon.
Mabon is what Wiccan's call the Autumn Equinox. Most cultures simply see it as Harvest. If you think about it, it takes a non-agricultural culture to schedule a holiday in the middle of the period where you put every minute you can into gathering in the harvest for the next year. But this is the point when summer growth bursts (in many crops) into the fruit, grain, or whatever part needs storing to be used over the next year.
We all get excited after the cold of winter to the return of warmth and growth, and many traditions celebrate the "return of the lady" in the spring. In our family, we celebrate the "return of the lord" who will rule the winter months. I picture her heading for the southern hemisphere while he comes up to the northern hemisphere, and they may get together a bit as they pass each other, but we want to make sure that we make him welcome. We take our biggest horn out on to the porch and each of us blows a blast to welcome him (our neighbors much love that!), then we go in and eat saffron bread stuffed with fruit and nuts. I am so grateful that our food supply has not required me to spend the last month canning over a hot stove! I hope you find your own way to celebrate the harvest season- which is ongoing until after Samhain.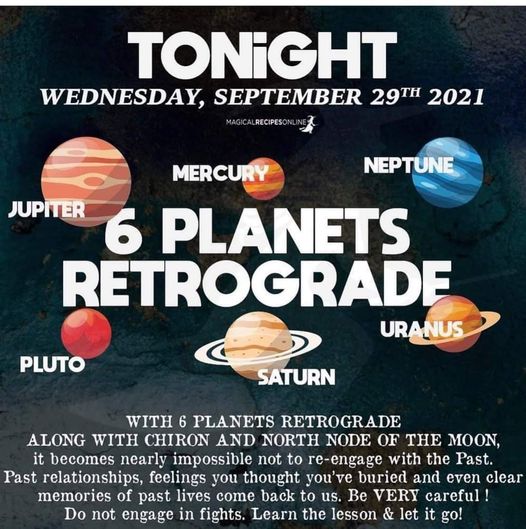 We are also experiencing some astronomical craziness (and I hear there was also some sun spot activity- if you've had 'one of those weeks' there may be some outside influences causing it)! As of last Wednesday there were six planets in retrograde. Admittedly, Mercury comes and goes three times a year, and tends to be our favorite scapegoat for when things don't work out the way we plan. The outer planets circle the sun much more slowly, and retrograde is going to give a different twist to their influences. But anytime there's retrograde activity, it's probably a good time to slow down and turn inward. The outer planets move more sedately. Jupiter will go direct October 17th, and we may be more "dazed and confused" until then. Neptune's lasts until December 1st, enhancing our ability to delude ourselves. Saturn, being about work, suggests it's long retrograde as a time to reassess what you're doing with your life (ending Oct 10), more 'inner work' opportunity. Uranus went retrograde in August and stays that way until January- these influences are slow and subtle, and working with them, as with the moon cycles, simply gives you some advantage to going with the flow, not against it. Still, it was impressive to have such a cluster.
Any time we are working with nature, as we do when we plant and nurture seeds, or animals, or other projects, in order to work toward an intended harvest, we do better to work with nature rather than against it. We don't tap the trees for maple syrup in the fall, nor expect to collect apples for cider in the spring. Since conditions tend to favor everything in one category coming ripe at once, we need to learn to anticipate when we are going to need to devote our energy to that gathering in. Winter is coming, but we can look forward to that as a time of rest after the exertions of Harvest. We don't think of it much in the modern world, but our winter snugness used to depend on the harvesting of firewood. Harvest is a time of bounty, and brings a relaxation of worries about our survival for the coming year. One of it's greatest lessons is to learn to plan how to fit everything into the year in the most effective way.
Happy Mabon


*I tripped over a list of names for the New Moons, and here they are:
March: Fasting or Weaning Moon
April: Seed Moon
May: Courting Moon
June: Mating Moon
July: Journey Moon
August: Mother's Moon
September: Nesting Moon
October: Finders Moon
November: Spinner Moon
December: Black Moon and Death Moon
January: Birth Moon
February: Milk Moon
I don't think that when there are two those are alternate names, but rather because there are more than 12 moons in a year, so we need more.
I can't find the source of this list, but it's nice to have names for them.
Share this!