Every symbol has levels of meaning
Follow Us!Share this!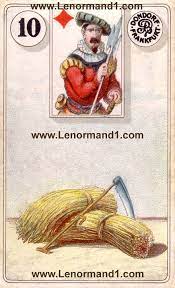 One of the wonderful things about symbols is how they can convey so much in one image or thought. It can tell a story, but it can also tell different stories to different people. Not only that, they interact, so that two symbols can combine, giving even more information as we see in many types of divination. This is one of the reasons that when we pick a theme each year, it can inspire so many different blog posts about any theme.
This year our theme has been Harvest, and as I was working with Lenormand cards recently, I thought about one of them: the Scythe card. This card is usually a card of warning, of things happening quickly, of being cut, or cut off (as in relationships or jobs), possibly surgery. When things are sharp and moving quickly we do need to be aware and be careful. But when you throw in what most modern people don't know about scythes: that they are a tool that brings in the harvest, makes it possible for gather it in quickly and with less effort, it means more. Summer is the time of the grass harvest (grain harvest comes later). But without bringing in good dry hay, the animals will not survive the winter. Without the grain there will be no bread, no beer.
Different tools do different things- Duct tape sticks things together, DW40 keeps things from sticking together, both are useful, and necessary. The scythe may be sharp, and you can easily cut yourself *, so caution is necessary. When using a powerful tool one must be careful, but at the same time, would you want a surgeon using a dull scalpel? Can you not think of some relationships that are better off neatly terminated, rather than dragging on? Certainly during a harvest, you must "make hay when the sun shines", or do it quickly. Plants may grow at their own rate, but when it's time to harvest, one must try to catch the peak of nutrition. Cutting, speed, risk are what a scythe represents, as well as harvest, because it's rarely used at other times.
I heartily recommend the Lenormand card system, although it may confuse those already familiar with Tarot cards, for the same reason: symbols mean so many things, and Tarot has taught us to look first for certain ones. Whereas in both Tarot and Lenormand the Sun card expresses much the same meaning: Warmth, Happiness and Success other similar cards do not. The Tarot Moon trump represents mysteries, unconscious psychic forces and spiritual wisdom, in Lenormand the moon card conveys how the world sees you, the (changing) face you show the world, fame and artistry. Both express aspects of the moon, but each system has embraced different parts of it. Another, the Tarot Tower expresses huge changes, the overturning of current structures and ways of thinking, whereas in Lenormand the Tower is a solid building, a place of refuge, protection, although isolation, as well as businesses and the buildings they inhabit; as a tall building, it's a place to see more and get perspective. I note that the Tarot card is specifically the "lightning-struck" tower, and that aspect is missing from the Lenormand Tower. I have noticed in recently published books some of the interpretations from Tarot seem to be being transferred to Lenormand's. Symbols can change, and we can't ignore these changes.
It's hard to "un-see" or unlearn something once it has gotten into your brain. I learned Tarot's Hanged Man as one who sacrifices worldly for spiritual insights, later I learned that in early Tarot decks it was called "The Traitor", as traitors were displayed hung by one foot, common knowledge at the time the cards were developed, but not now. Certainly someone who feels that their personal perspective is more important than that of the rules of society incorporates both the man who rejects the physical for the spiritual and the man who rejects his country's law. Another card, Strength, originally showed Samson and the lion. Later artists saw only the long hair in the image and assumed the figure was a woman, and turning it into a woman with the spiritual force that could overcome a lion. Samson's miraculous strength had come from the spiritual practice of not cutting his hair, but as in the game of 'telephone', some of our understanding of the cards has changed over the years.
Symbols are remarkably flexible. The same bent-armed cross used from early Northern Europe, to the Pre-Columbian New World, to the Indian sub-continent representing the sun, has been so deeply perverted by the Nazis and White Supremacists, that the Diné have decided to stop using their "whirling log" out of respect for the victims of the Holocaust. To ignore what it means to others is to misunderstand the symbol.
Meditating on symbols can help you see beyond the simple surface meanings, whether they are being used in divination or ritual. It's important to learn as much about any symbol as you can before you use it, whether trying to get an accurate interpretation in divination, or even more in a ritual or magickal operation. Intention only goes so far, the symbol will function according to it's innate meaning. You'd better be aware what that is before you activate it!
Humans interpret the world through symbols. We see patterns, use them, and extend them to understand the world. It's important to keep in mind that due to different people and cultures seeing things different ways, no symbol meaning is absolute. One symbol can carry volumes of meanings, but if read on a different level can result in misunderstanding. One of the aspects of Lenormand divination I find exciting is that the same card, for example: The Child may modify one card to mean small, another to mean young or new, and another to mean innocent… all in the same tableau. Each card affects those around it, as we all change everything we touch. That itself is wonderfully symbolic.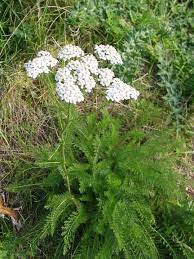 *This is why men would tie a stalk of yarrow around the scythe handle if they spotted one on the way to the fields to mow, as it's an excellent styptic, and would be there when they needed it, so they wouldn't have to go looking while bleeding. It was used for all bleeding issues from cuts to nosebleeds to hemorrhoids, to menstruation. (In the Herbal Tarot, the Ace of wands is Yarrow, which is not a connection I would have made for it since my interaction with the herb is medicinal.)