Follow Us!Share this!
My social media is currently full of people sharing how they are trying to send energy to shield the Ukraine, and other magickal workings at many levels of protection and hexing. One of the many things people disagree about in magick is the pros and cons of using magick to harm or bind. Most people are more comfortable with binding than hexing, and many aren't comfortable with that. My usual way of examining that sort of ethical problem is to translate it to another sort of activity that is more direct or hands-on. Understanding what you find acceptable in the physical world works for certain ends, using magick to accomplish the same ends should feel the same.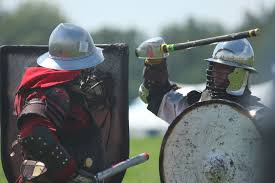 When speaking of attack or defense, my brain immediately runs to SCA combat, since I've been playing there for nearly five decades. The Society for Creative Anachronism is a historical recreation group, where one of the most visible and dramatic activities was combat. About 10% of the people in the SCA participate in combat in some way (and get about 80% of the attention). They wear armor and hit each other with blunt weapons, and enjoy it a lot. My husband did that, and many of our friends, so I have participated in many discussions about fighting, and how it should be done. I'll admit that this is 'play' fighting, but as with many activities, the lessons learned would translate into real combat, and this exercise supposed to be an analogy anyway.
My husband, Sir Ælfwine had several basic rules he gave his squires and others he taught at fighting practices. The first one was "Don't be there when the blow lands." (This is easier if you are part `toon as he seemed to be.) Other rules were "Always Block." and "Hit the other guy first", which certainly seem simplistic. Less obvious is "Always charge an ambush", which comes up in woods battles, rather than duels in the lists.
Another bit of Ælfwine wisdom was: "Pain is your friend, it tells you when you've done something stupid." I think this one came from the 'lesson' that you learn to block places where you've gotten bruises. The rattan swords of the SCA left, and I think still leave, spectacular bruises on arms, legs and sides where you haven't blocked an incoming blow. People often took extra care to get good armor for areas that collected too many bruises. Ælfwine preferred dodging or blocking the blow before it hit your armor.
This is where we start looking at this as an analogy for using magick. Pain is your body's cry for attention. It is saying "I am damaged, please do something to fix it!". The greater the pain, the more your body is 'yelling at you' that something is wrong, and needs attention. If it's a mild headache, you may be dehydrated and need water; or need to stop ingesting aspartame or other toxin. Or you may be empathic and need to shield better because someone else near you is tense or hung-over.
People too often ignore pain until the problem becomes harder to remedy. Please learn to respond to these silent signals; they are important. If you are feeling emotional or psychic pain, you must not ignore that pain either. But as with physical pain issues, you may have to do diagnosis to figure out the cause of the pain. We could envy the ease with which SCA fighters can look at where their bruises are and figure out where they need to either block better, or armor that area better. It's not so easy with emotional pain. One thing that can help is timing- check your environment, does your discomfort come when you are with certain people? Does it come at certain times of day, year, or of the lunar cycle? Have you had any hints from your dreams? Does your discomfort sit in any part of your body? If it's a recurring discomfort, you may see the pattern more easily if you write down what's around you when it strikes. Another thing that may help is that sometimes you can figure out the direction it's coming from, but, as with a physical blow, don't just look at what's near, look beyond the immediate potential sources. Energy can be coming through other things, so extend your awareness to not assume that which is closest is the source.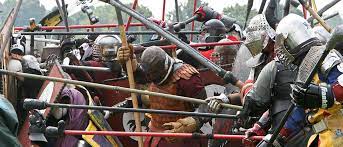 "Don't be there when the blow lands" is a call for situational awareness. You may well have some negative energy being directed at you, and while two guys a roped off area whaling on each other is pretty clear, real life is more like a melee (a whole lot of guys going after each other all at once). In SCA combat you aren't allowed to hit anyone from the back, because it's not chivalrous, but sometimes someone hauling back to hit someone in front of him, can inadvertently whack a friend who's fighting behind him. Like a fighter, you need to learn to be aware of what's going on around you. We live in a world where many people are dealing with many problems at once. You could as easily be suffering from leaking anxiety from the miserable tenant in the next apartment as you could be bothered by their smoking or playing their music too loudly. Shielding and warding is one of the most important things all energy users must learn, and we also need to remember that things that hurt us weren't necessarily directed at us with malicious intent. Never put down to malice what can been attributed to ignorance. People who don't know that emotions fuel energy which creates reality have no idea what they're putting out. If you can't heal them, at least you can protect yourself from them. And others.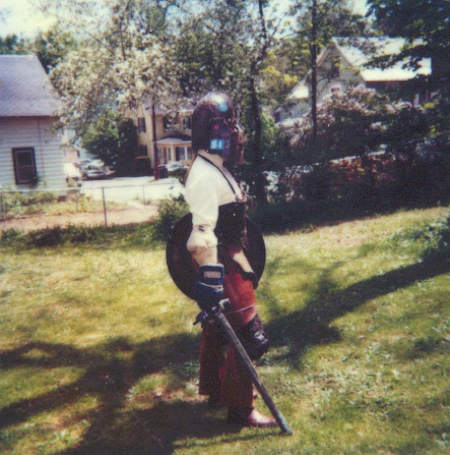 When you are certain that you are in a dangerous situation, 'Hit the other guy first.' comes into play. With an energy exchange, if you can throw a binding onto a person you are sure intends you harm before they send something at you, you won't be incurring any karmic feedback for hurting them, and you won't be taking damage either. 'Charging an ambush' in this analogy is being ready to respond instantly when you see a danger develop. Most attacks of any sort depend on surprise. There's nothing more surprising that the intended victim being ready to deflect the attack and mount one of their own. This requires you being ready with your own magickal skill set so that if you want to wait until malice is confirmed, you won't be helpless. Remember, whether playing an instrument, or doing martial arts, you must practice your skills constantly, as much as you can to become proficient in them, so that they'll be there when you need them. Once the fecal material impacts the rotary impeller, it's too late to start your training program. Practice, practice, practice!
That's enough to show you how the analogy works. Extend it as is useful, or come up with your own. The world is not always a gentle and pleasant place, and you will probably have to deal with some nastiness whether caused by intention or carelessness. Many of my friends are drawn to become SCA knights because inside, they are protectors and guardians of the innocent and helpless. The images of chivalry speak to their core being in a way there are too few options available in the modern world. Sure, they may stop and help change a tire for a stranded motorist, or intervene if they see a drunk abusing a victim, but SCA training allows them to learn the moves, and more importantly come to accept their role as one of the 'pure of heart' of the world. (That's not a role that's given much encouragement in our culture.) Learn how so that when it comes up you have the "moves and the muscle" to protect those who need it, as well as yourself. Before you can send effective magick to strangers on the other side of the world, you need the skills to use it here for those you can see. You need to learn to see who needs help, and what needs to be done. As with any other skill, this requires practice, and learning how to do it the way that works for you. Even if you're just starting, be proud that you have that urge.