Follow Us!Share this!
This week Starwolf (or Sean Kane) will be talking more about crystals:
Rose Quartz (and clear, and rutilated…), amethyst, hematite, pyrite malachite, opal, moonstone, garnet, citrine, flourite, adventurine, agate, azurite, turquoise, bloodstone, lodestone, …. the list goes on.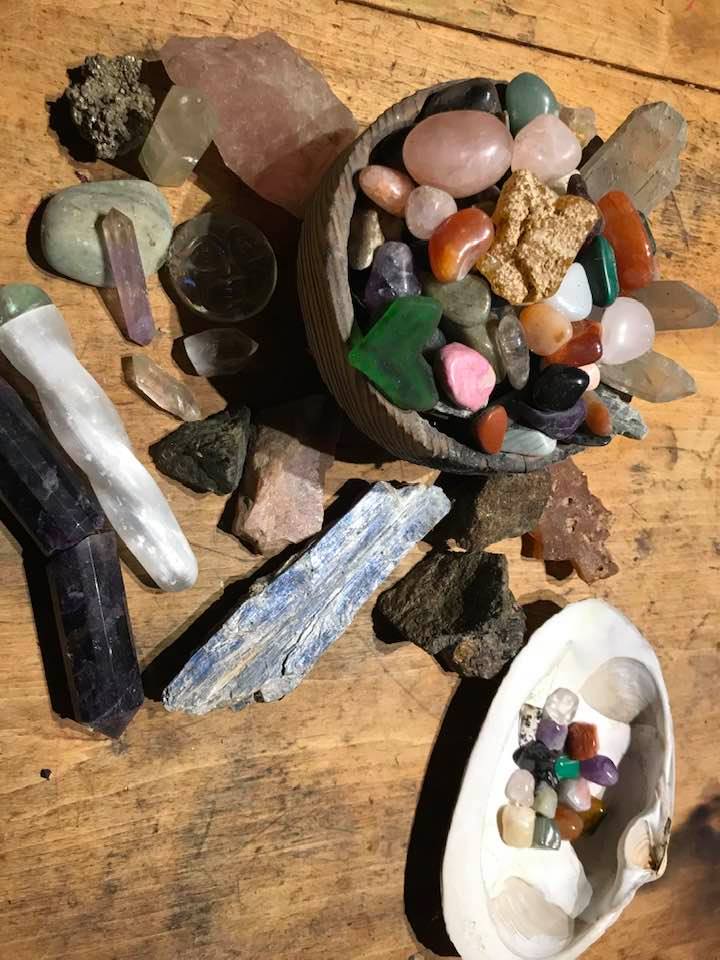 Starwolf has been a frequent speaker and panelist at CTCW. As a shaman, Witch, professional psychic, Reiki Master and metaphysical engineer and soldier of fortune, Starwolf brings a HUGE range of knowledge and experience to the fields of magick, metaphysics and spirituality. His practical approach to adapting traditional metaphysical elements to modern lifestyles pulls magick into the twenty-first century.

In April Starwolf talked about some of the more exotic crystals, and I want to get to more of the practical uses of "the bones of our mother". How do we use them (beyond what he's covered recently)? What would a good beginner's set be? How about rocks you pick up while out walking? Rocks with holes in them or inclusions like fossils or a clear symbol? What difference does the shape of the stone make: most shops sell tumbled lumps as well as points, what difference does the shape make? What can we tell by the color?
Have you got a stone that called out to you, but you're not sure what you should do with it? We'll give everyone a chance to ask him. Let's see what else we can cover this time around!


Join Zoom Meeting

https://us02web.zoom.us/j/85601649219?pwd=d1MwVmtQVDJnTlppdFFSSmlLVjhRUT09

Meeting ID: 856 0164 9219
Passcode: 698107
If you want to see previous Otherworldly episodes please check out recordings on the CTCW youtube channel: https://www.youtube.com/channel/UC1xTRrcFwUjmQgWb_BDvpiA
When the pandemic isn't keeping us at home, Starwolf is often reading runes at various pagan events and fairs. You can find him and his wife Catherine Kane online as Foresight (the Information you need for the Adventure of Life) at www.ForesightYourPsychic.com or www.ForesightYourCtPsychic.wordpress.com
Remember to tell your friends about CTCW, as word of mouth is our best advertising. We're all psychic, pretending we aren't is like wearing blinders or tying one hand down.The Changing Times-Changing Worlds Conference will be held virtually, but live in 2021 on Zoom, November 8-14. Evening classes and panels Monday through Friday, and all day long on the weekends with breakout rooms.
Our website: https://ctcw.net/ On Facebook the CTCW Group has become private to facilitate open discussions; we make announcements on the CTCW Facebook Page which is public. Please join us there. If you miss this event, the recordings are posted on Youtube Thursday or Friday.